Heyyy yallll! Christmas is inching closer! Whose ready? NOT ME! I still have lots of presents to buy & the more I look for others the more I buy myself! Whooopsss!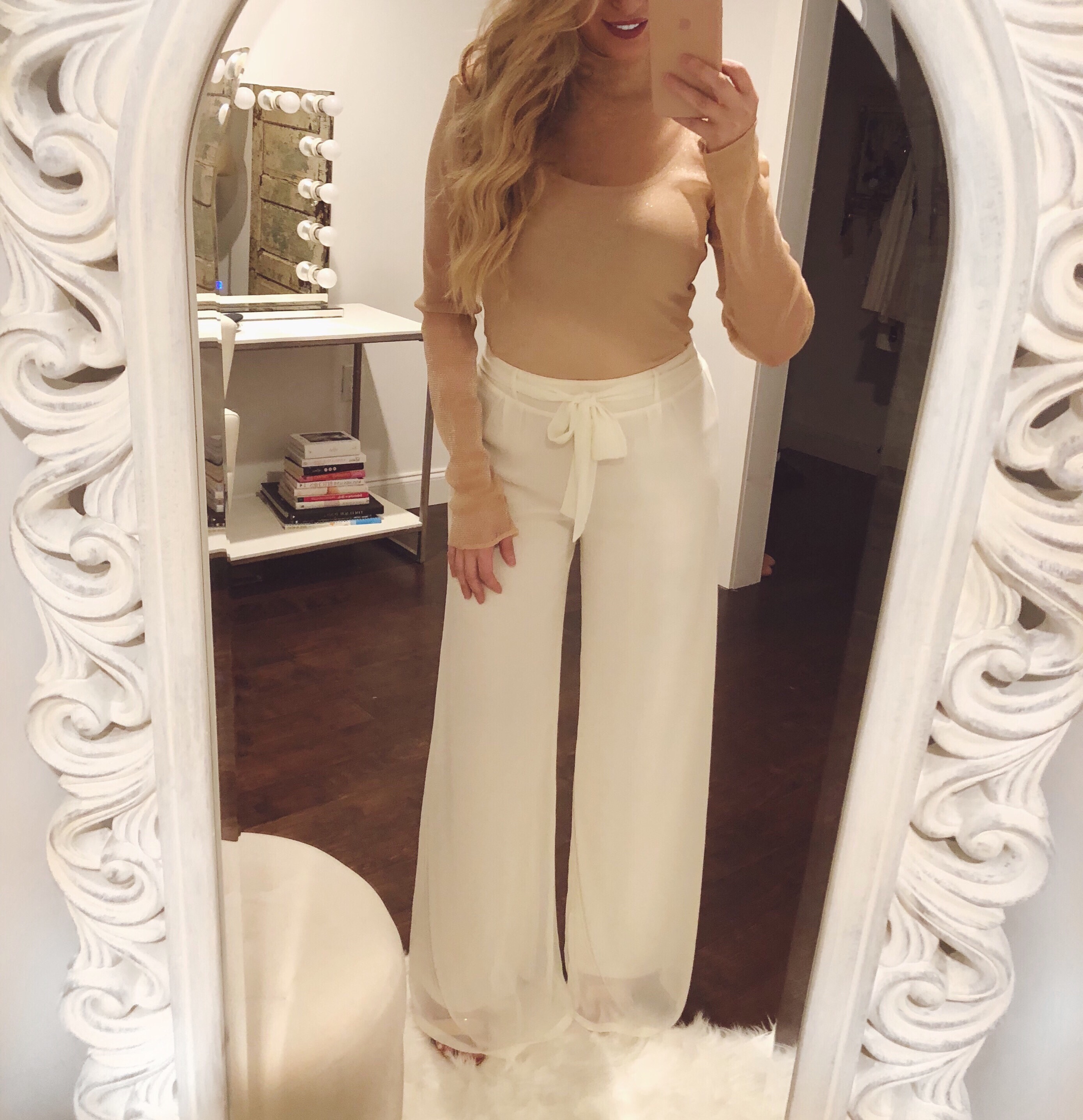 I wanted to do a quick post on this cute little outfit! This would be so cute for Christmas Eve, Christmas Day, or maybe even a low key New Year's Eve! Either way it's got a little bit of a holiday vibe, soooo, I wore it to a Christmas dinner with friends!!
I don't know about y'all but I LOVE white pants! All about white pants during summer months or winter months!!! They look classy & clean to me! Plus they are SO diverse! They match everything and are definitely a good investment because they can be warn all different ways year round!!! Basically, everyone should have some!
I paired mine for this outfit with a tucked in shirt, that was actually from target! #winning! It's a sheer tanish/peachy color and has sparkly threads throughout it! Making it a perfect festive holiday shirt!!! I got this shirt in a small because a medium looked big on the hanger, but I could have even done a extra small to make it feel tighter!! I guess y'all are out of luck if you normally wear a extra small lol!!! The shirt is cute now matter what though! I love that it's got a high turtleneck and it even has little thumb holes!! So cute!!!
I did some looking around and linked some cute white pants below. Click on the pictures to shops them! I also found two cute sets of pants with a top! I LOVE these and almost got one because I thought it would be cute for Christmas Eve or New Year's Eve dinner but let's be honest girl likes to eat and you can't suck in with a crop top lol!! I think they would both look great paired with a furish jacket or even a blazer! Just keeping it real!
-SHOP MY OUTFIT-

-SET OPTIONS-

-XOXO,CHELSEY RAE-