Hey y'all! It's time for another Christmas list! GOLD is the color this time! I'm blogging in the waiting room at the surgery center this morning, first time for everything!! Today I'm having basal cell skin cancer removed from my face, needless to say I am superrrrr paranoid. I'm typing this in an attempt to keep my mind off of what's about to go down, between this and the valium kicking in I think it'll do the tick (that or this blog post will be really jacked up lol)!!
Filling you guys in so if any of my clients see me the next few days will know why I look like Frankenstein & incase I slack on the blog posts you know why!
Now, back to the main event – GIFT GUIDE! I gathered up my top 10 favorite/cute gold gifts I could find & of course they are all under $100! Pick your favorite number below & scroll past the pictures to see the description! If you want to scoop one of this gifts up, click on the pink link and it will bring you directly to the page so you can purchase!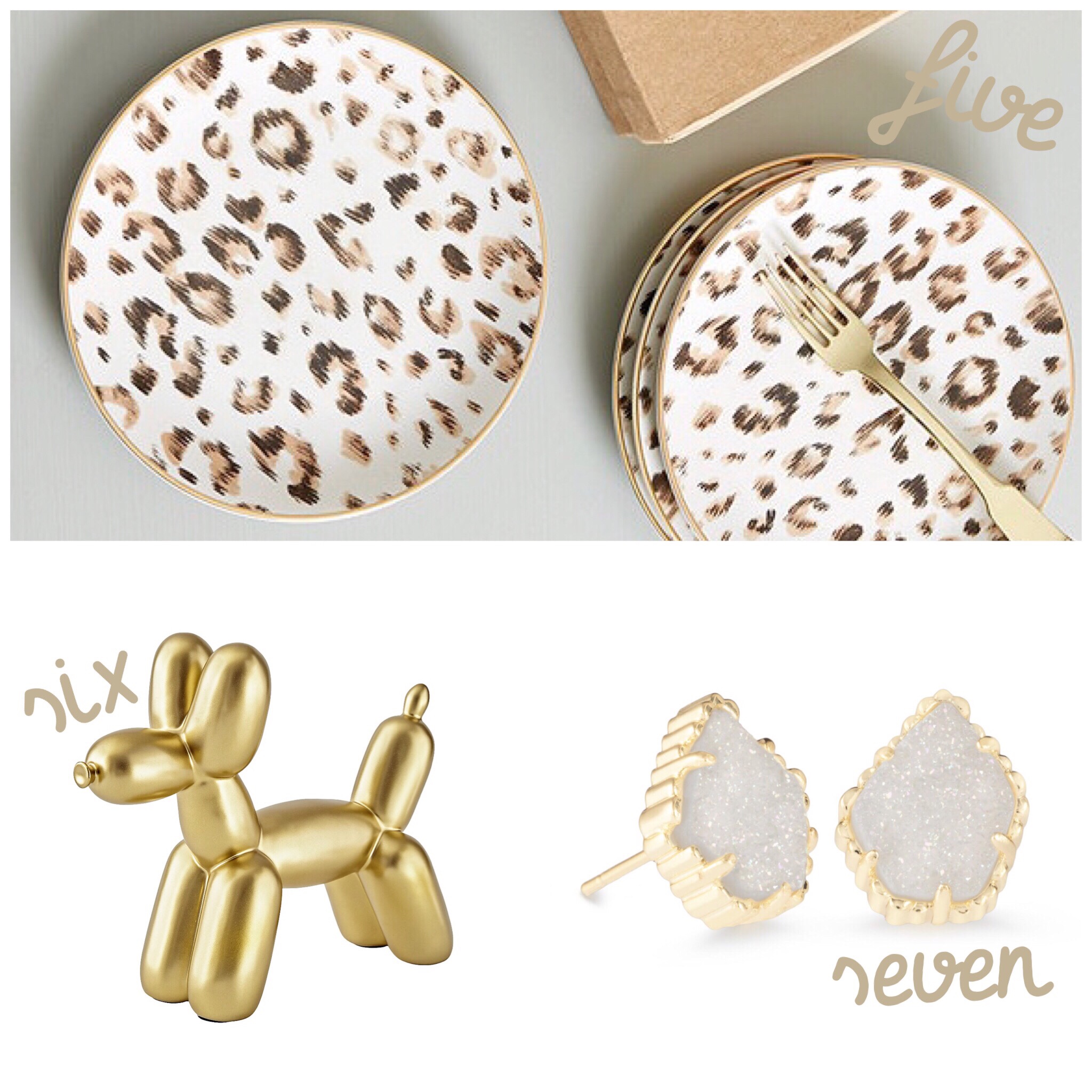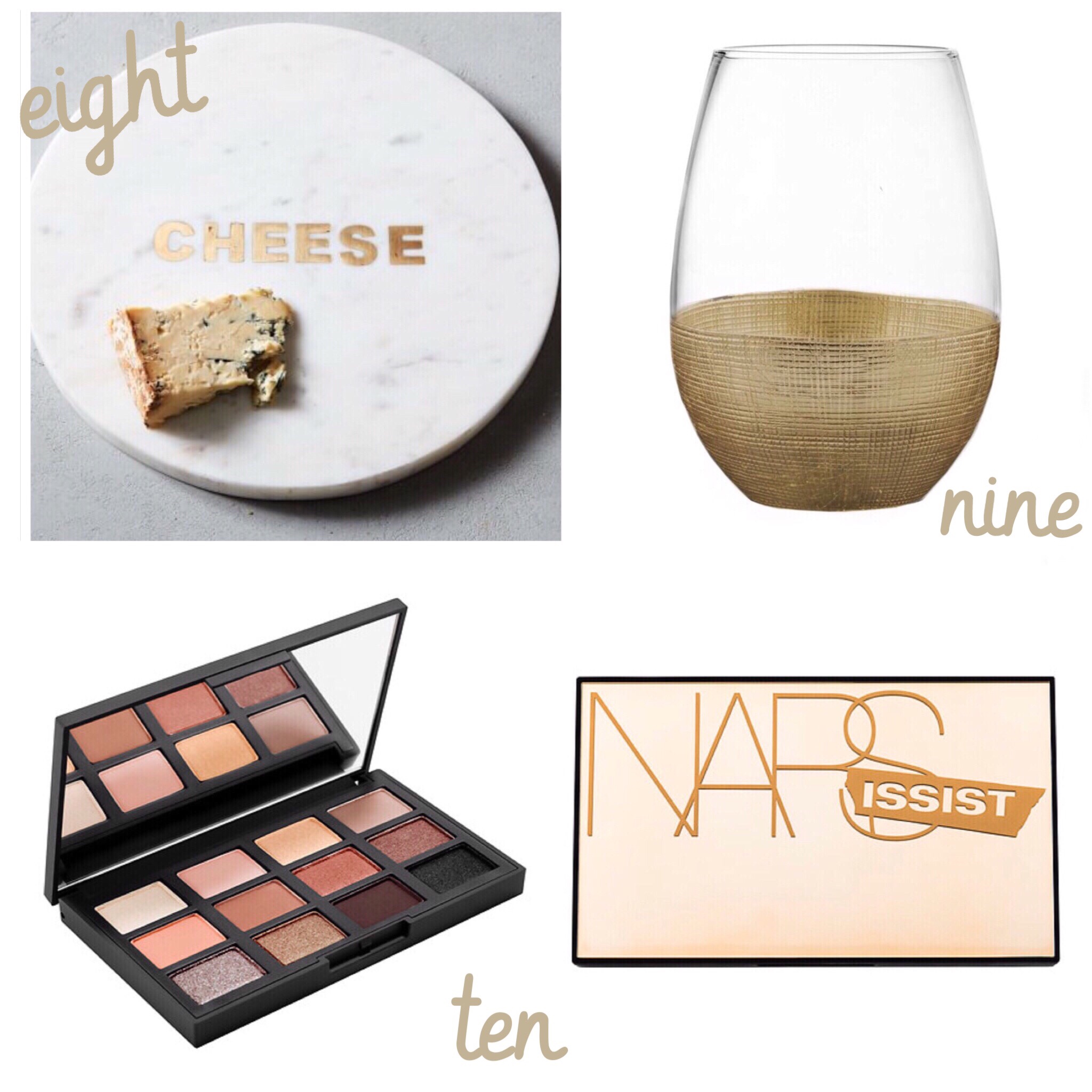 ONE • Engravable Bar Necklace Stella&dot $60 | this necklace, I love it! I saw it on one of my clients about a year ago & had to ask where it was from so I could get one for myself! Anyone who knows me would probably tell you I'm not a huge jewelry girl, but this necklace is simple/dainty and that's why I love it!! I got my initials but you can personalize it with your name or even a special date, which is really cute!!! This is also very nicely made and over the time I've had it has never turned color on me, which is something that is a win in my book! Scroll to the end of this post to see it on in a picture!
TWO • ElixIr Ultime Kerastase $58 | the holy grail of hair oil! This stuff sells like hot cakes at the salon! It is for all hair types and has multiple uses, giving you a lot of bang for your buck!!! Use it as a pre-shampoo, use it before blow drying to help with heat protection and smoothing, use it after blow dry as a smithing finish oil + use it on your body! No lie, put this stuff on when you have a fancy night out and are showing some leg, you'll love how good it makes your legs look!!!
THREE • Invisibobble Hair Rings Sephora $18 | my absolute favorite hair ties! These would make a great stocking stuffer or a awesome small gift for your girlfriends! I love these because they are more beneficial than you'd think! They don't leave creases in your hair, they are less likely to give you headaches & the material they are made out of leaves you with no ponytail breakage! Plus, these colors are so cute!!
FOUR • Tic Tac Toe Game Shopbop $50 | how cute is this game board?! This is the perfect little gift to give to someone who's looking for some home accessories! It would look adorable on a coffee table, office desk or even a on little side table in your den! This is a piece you know that no one else will have and it makes for a good drinking game! Cheers to that!
FIVE • Leopard Accent Plates Ballard designs $49 | helloooo, I am obsessed!! These come in a set of four and would look so cute set out on your kitchen table with gold cutlery! Again, this makes a great gift for someone whose into home decor!! I love the gold detailing on the sides and like how the leopard print is not too overbearing because it's a lighter color!
SIX • Gold Ballon Dog land of nod $55 | as I'm typing this I'm realizing I must have been on a home accessories kick when I did my gold list pahaha! I love this little ballon dog because it's so different! It would make a great bookend, look so cute on a office desk or even on a dresser in your bedroom!!
SEVEN • Drusy Stud Earrings Kendra Scott $65 | the gold detailing on the side of these is so cute!! Again, love these because they are simple & dainty! If anyone that loves me is reading this, I'll take a pair!!
EIGHT • Cheese Board West Elm $53 | need I say anything else other then cheese? Plus it's gold? And marble?! YES PLEASE! such a cute gift for a friend that you know is a hostess with the mostest! Guaranteed to please anyone who likes to entertain!!
NINE • Gold Stemless Wine Glasses Nordstrom $40 | treat your friend, or yourself to these beauties! Because everyone loves a glass of wine! The gold on the bottom of these takes these a step up then your normal wine glasses + makes them a little more elegant! Comes in a set of four!
TEN • NARSissist Loaded Eyeshadow Palette Sephora $59 | one of my favorite things on this list! I am obsessed with it! I have to say though I am not really a eyeshadow girl, I'll only put it on every now and again when I am going somewhere fancy! That being said I love this because they are all really neutral colors! I got this palette around the time that Kylie Jenner was releasing all of her eyeshadow palettes, I loved the colors but was not getting online at a certain time to get them before they sold, too busy for all that! Apparently this palette isssss limited addition though – get it while ya can!!
Happy Gold Gifting Y'all!
XoXo, Chelsey Rae