Hey dolls! I'm finally blogging tonight from my own bed! It's a little late but my day today was crazy, so writing a post around 10 o'clock it is! My Disney trip with Ryan, Hayden, his parents & his brothers family was a blast! I have to say his family is the best and being around them has always been easy/fun because they are genuinely sweet & so welcoming! I wouldn't change a thing about our trip other then the humid weather that made my #chelseycurls fall pahaha!!!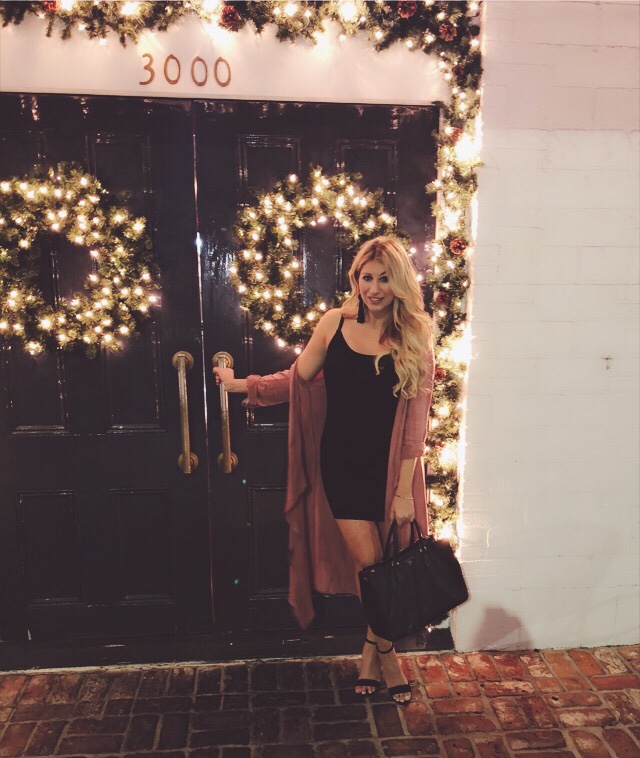 I am certainly whipped from Disney though and ran around like a chicken with my head cut off today trying to see some of my family that I've been missing (I am a huge sucker for my family, I miss them when I go anywhere) and get some Christmas things done because I'll be out of commission for a few after having a small surgery this up coming Tuesday!! So I've packed my days full up till then!
With all that being said my entire weekend was pretty eventful, we got home Friday night around 7:30 pm and I was up and rolling into work for 7:30 am Saturday morning! I got home around 5:30 and knew I had to juggle my evening between my brother who left to go back to Boston for school this morning and my bestest cousin Emily who was getting engaged!!
I got to pull off both in a timely manor all while wearing the cutest little pink duster! I wanted to wear something that didn't come off too dressy for dinner but was dressy enough to wear at a mini engagement party!
I got this duster a few months ago and knew it would be great to wear within the first few weeks that we would start getting some cool weather around here, so I purposely saved it! They are sold out in this exact one but I am linking similar choices below!
I chose to wear this with a simple black cami dress underneath. I feel like when wearing dusters, kimonos, & long line cardigans they should always be the main focal point of your outfit. Keeping what's underneath simple let's the duster, etc. steal the show! Also, i've learned to really appreciate when I find a good basic! This black tank dress I can wear time and time again because it's a workable piece of clothing. Layering it with different things can change the look up so easily!!
I paired this look with a simple ankle strap shoe and some black fringe earrings to tie it all together! I will definitely be able to wear this again paired with jeans or maybe leather leggings over the next few months, so it was a good buy in my book!
Duster | LuLus $62 , Nordstrom $37
Dress | Forever21 $17
Shoes | LuLus $29
Tassel Earrings | Amazon $10
XoXo, Chelsey Rae