Hey y'all! How's everyone's weekend going? Mines been pretty low key, which I guess is good since works been so crazy and the upcoming week is sure to be busy as well!
I have to say I have missed getting dressed up this year and going to holiday party's! This year was the first year I missed the salons work party because of my dang mohs surgery and there hasn't been a lot of dressing up opportunities going on since! Bummer for me! I guess if there was a year for it to be like that it would be this year since I wouldn't feel like running around with a nice bandaid on my face anyway right?
Speaking of dressing up how cute is this white fringe jacket I found at Forever 21? I thought it would be cute paired with something simple for a date night + it caught my eye because it had a different look to me!
I have to admit winter dressing can always be a little rough for me. I have a more curvy figure so I have to watch it with big sweaters and things like that. I've always thought having bigger boobs was more of a curse because they tend to hold shirts out further from your body and make you look bigger! Am I making sense or am I the only one that feels that way lol? We all want what we don't have right!? Anyway, the point is, that's why I like open sweaters like this, because I can pair it with a tight fitted shirt underneath. That way your still showing off a bit of your figure.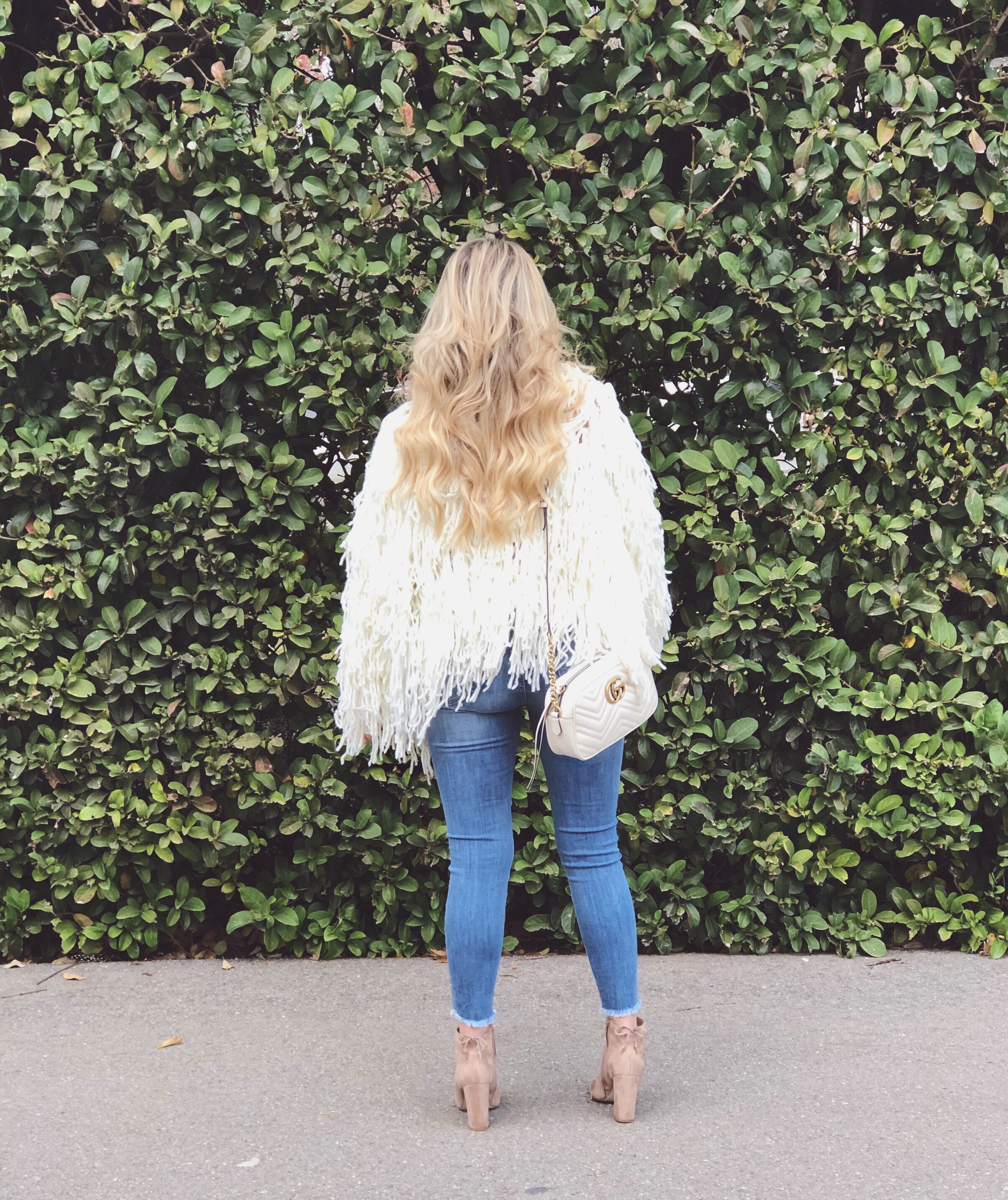 Again this sweater is DEFINITELY loud. It needs to be paired with simple things. I also have a very simple jumpsuit I was thinking I could pair it with. For this look I went with a more faded distressed denim to make it more relaxed since the sweater actually feels like it's made of yarn a little bit haha! You want to match the feel of all the clothes so a dressy pair of jeans or something too dressy could make it look kinda like a mess!
These booties I have spoken about before, I said how much I loved them because they are a true tan to me. Not really a brown tone or a purple tone come through like so many other tan shoes I try to go for! They are very comfy and I suggest going up in size since they have a pointy toe. I almost paired this outfit with a ankle strap shoe but since it's chilly here in Louisiana, finally, I went for the bootie!
Last but not least, Earrings! These are huge – but, they worked well with it! Sometimes the statement "less is more" can be thrown out the window right?
You can shop my look down below! Simply click on the item you like and you'll be taken to its page!

XoXo, Chelsey Rae