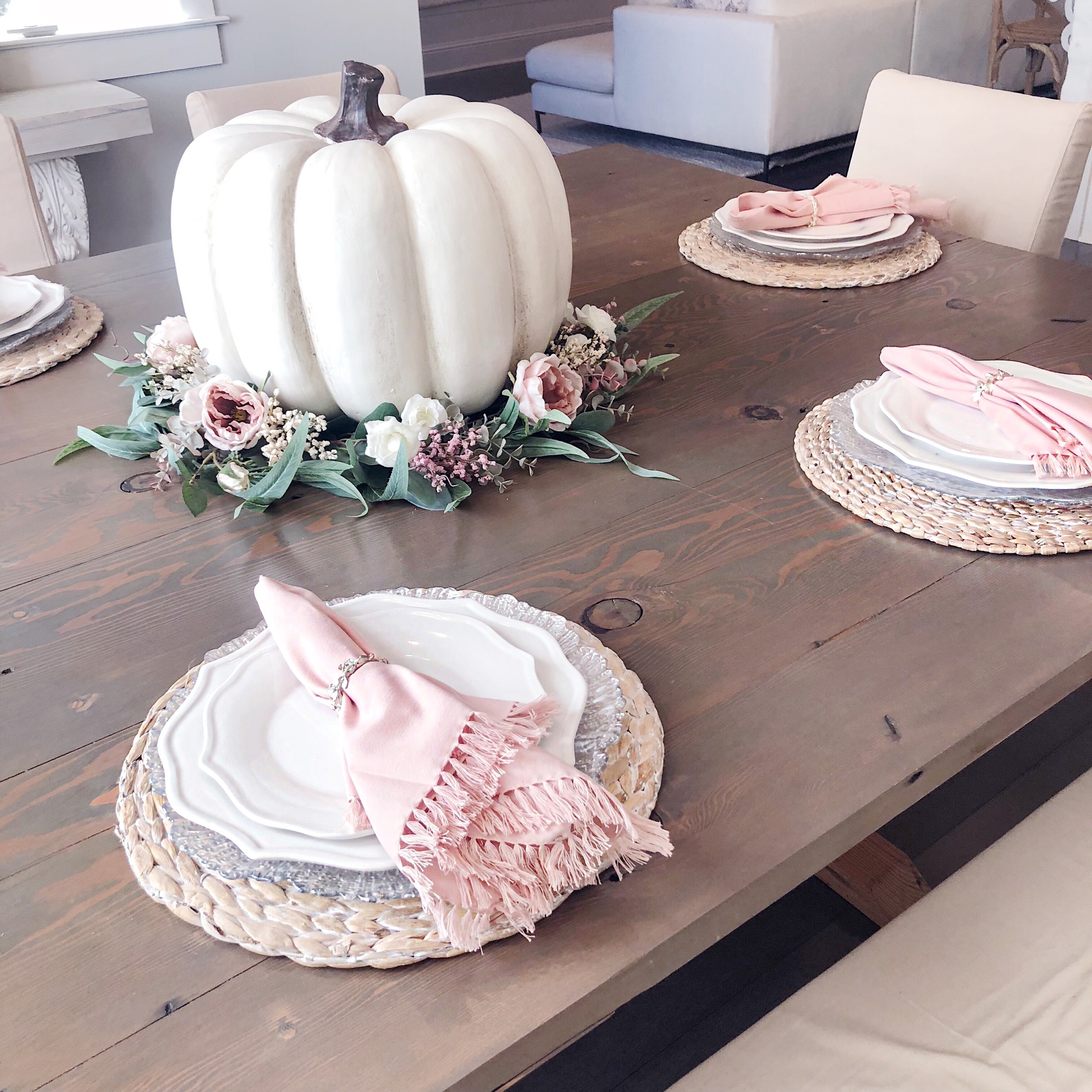 So, if you've followed along for a while now you know that decorating is one of my favorite things ever!
I can't believe I'm saying this, but Halloween has fallen through the cracks at our house lol! We didn't even pull out one scary skeleton! Of course we have tons of pumpkins, but that's about as spooky as it's gotten!
This year Ryan allowed me, out of the kindness of his freaking heart, to include PINK in my life (my dinner table life that is). Y'all I was shocked and amazed when him and Hayden got home to see our table fall ready and they didn't make a peep about the pink napkins!
Anyway, me and Ryan found this GIGANTIC pumpkin at home goods! I searched for something similar online but couldn't find it.
HOWEVER, you could definitely do this at home with a smaller size pumpkin. Ryan made our kitchen table and it's actually a little obnoxiously big lol – so on a regular size table you should definitely be able to find a pumpkin that fills out the area!
We ran to Michaels and found greenery that we liked and created a "nest" (if you will) around the pumpkin! Obviously making it look like it was sitting on a bed of flowers!
I can't lie. I love this tablescape this year – I love it even more because it's perfect for thanksgiving too! With planning a wedding, my time has been so consumed so I love the fact that I won't be pulling this down in a few weeks and redecorating! Double holiday decor for the win!
Tagging all the goodies on my table below incase y'all want to join the blush table linen movement with me!
– SHOP MY TABLE-

XoXo, Chelsey Rae