Hey y'all! So, I am clearlyyyyy a girl who is obsessed with tablescapes, I decorate my table for pretty much every holiday! Any reason to decorate and I am all about it!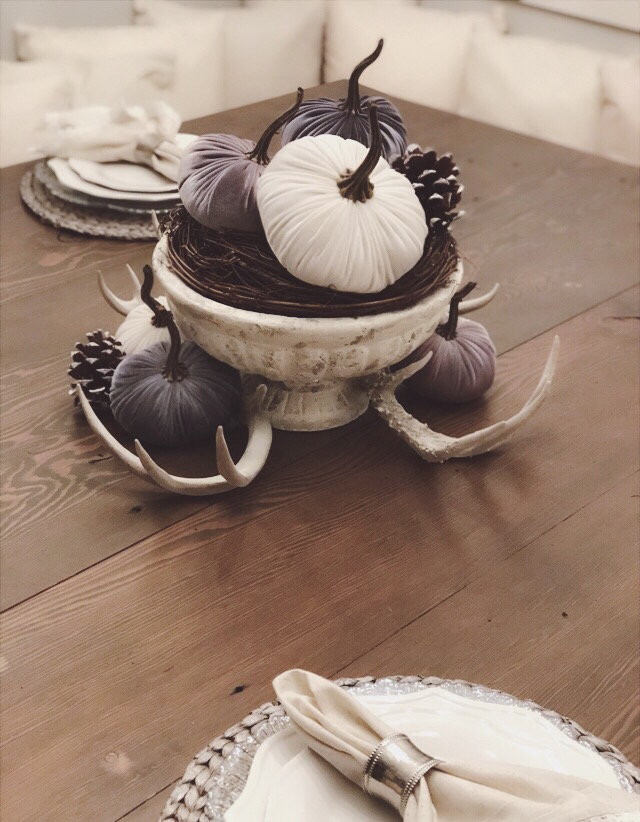 I was pretty obsessed with my Halloween table this year! Velvet pumpkins, crows, birdcages & lots of moss! Moss is a Halloween favorite of mine, it's spooky & super cheap when your momma lives in Destrehan! Rhonda gets me moss every Halloween!

I was on a big hunt for a nice size white urn that wasn't like $300 bucks for the table, everything I found was super expensive, too fancy, or a yellowishy cream/grey color! I had my eye on one from wayfair that I loved everything but the color, so with the help of Ryan we painted it white with Annie Sloan chalk paint, and then he kind of sponged gray chalk paint on it I'm pretty sure but I wasn't around for that! He is the best because he entertains my little projects! I've linked it here from wayfair, it was around $50 and with the help of the paint its something I know will get a lot of use for all holidays or any kind of décor around the house!!
So to go from spooky to more of a thanksgiving/fall feel I wanted to lose the moss and bring on more fall foliage! I wanted to keep my velvet pumpkins, of course, as the main focus and also reuse deer antlers I had previously got (I've posted that in a previous post with links but will link more options again below). I thought of replacing the moss with leaves but wanted to keep things more simple because of the velvet pumpkins. Branches or pinecones popped in my head, I ran to michaels and found both! I decided to grab pinecones with white tips and figured I would use them around the table if they worked, using the branches as the urn filler!
I've linked a list below of things used in this tablescape and will also link a few sites for velvet pumpkins ranging in price as well as my place settings from pier1.
Décor for tablescape
Plate settings all from Pier1 (some of mine are no longer in stock but I've linked similar looks)
White wash deer antler (here is a past blog post that explains what I used to make them white)
Velvet pumpkin links
I filled the urn with the branches and replaced the pumpkins leaving some on the side to look like they spilled out! The branches were easy to bend and break to help me fill in under the pumpkins and to help prop them up! I added a few pinecones to fill in empty space and placed the antlers around the urn. I also added dinner plates on top of my charger to dress it up a little more!
Overall this didn't cost a lot because I've collected some of my decor over time! The velvet pumpkins are costly but they are something you will be able to use over again – and, I think they are a good investment because they double as Halloween & Fall decor! The antlers are a good thing to have around as well because I pull them out for Christmas as well!!
XoXo, Chelsey Rae