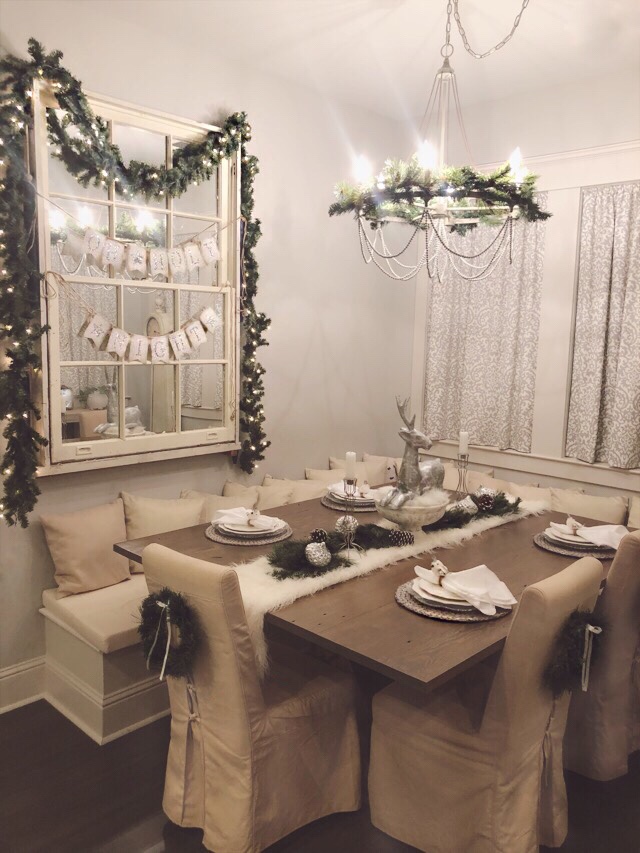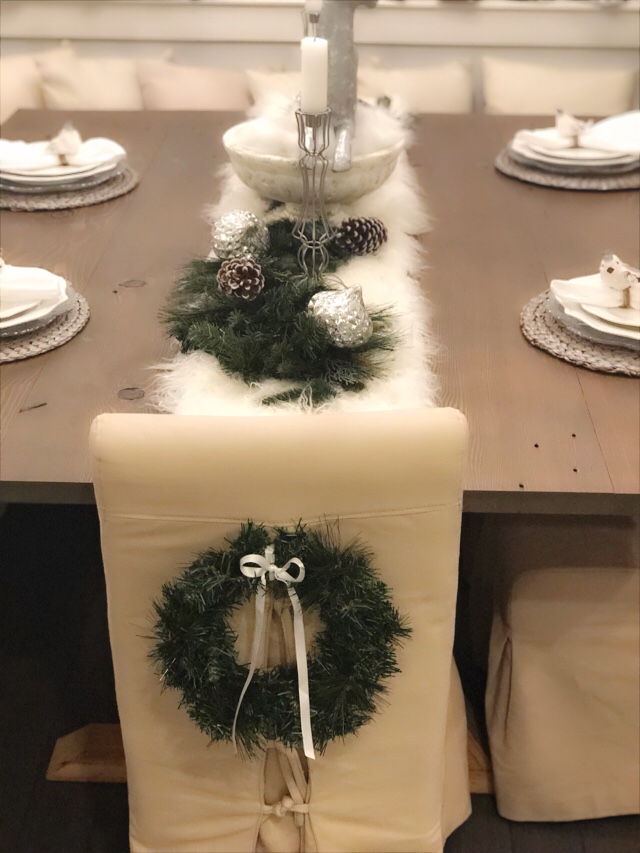 I love decorating for Christmas! I don't know if I could think of anyone who would say different! Christmas decor is hands down the best! All the lights, and sparkles! The fresh (or faux) greenery – there's no other holiday like it!
The thing I love about decorating for Christmas is that you can throw some lights or greenery around the house and it makes such a huge difference! It doesn't really need anything else if you don't have anything else, land honestly, sometimes I think the simpleness of Garland and some lights is the prettiest! Anytime I decorate, I have to say I'm more into the simplicity of things rather then throwing a billion over the top things up just to have them fill up the house!
Also, with decorating for any holiday, I always try to keep in mind all of my past years themes when shopping and only really purchase things that will work with them/add to them. This helps save you money and gives you more options for years to come. I like to think of shopping for any holiday decorations as an opportunity to add things that will go with anything in my collection – not to necessarily start a new collection. For the past few Christmas I have stuck with silver, gold, white, silver & gold and all white.
Now, if I wanted to make things look different from those past years I would maybe think to add some color! If I was in my all girl house still, BLUSH would have made a major appearance (but every time I turned to look at Ryan after saying something blush was cute in a store he looked at me like I had 3 heads)! Or, if the boys would have wanted to go for a more festive theme I would have thought to throw in some red ornaments in the mix of white. Maybe have a red bow as my Christmas tree topper and add small poinsettias through the house to add touches of the red theme in different areas!
This year, Since it was my first Christmas moved into Ryan's I tried to remain calm and told myself I wouldn't go crazy and take over. Pahaha! Although I think Ryan's maybe used to me taking over the decorating. And that he's maybe okay with it! He goes along with it, so sometimes I think he doesn't mind, either that or he gives up lol!! But anyway, I only realllllly went nutso in the dining room! So I figured I'd focus in on that for you guys in this blog post!
This year we went more with a silver and white theme. Keeping things clean and simple. I wanted the table to look elegant but not to done up! With the table I used the normal urn that stays there but replaced our fall pumpkins with a big silver reindeer! This little guy looks big and makes a statement but was cheaper being that he's made of paper mache!
Once I filled underneath him with fur ornaments I found, this made for the highest point on the table. I knew from here that I would have to even the feel out with something that would bring the hight down a bit on each side! Since the table is very large you can't have just one tall thing in the center.
As soon as I got to brainstorming I knew that candlesticks would be perfect to incorporate. They would be a great way to fancy it up and keep the hight of everything proportional. I found these pretty wire ones, but they were gold so I sprayed them silver with a mirrored glass spray paint!
I added touches of mercury glass and fur. The fur table runner, I. am. obsessed. with! I also added snow tipped pinecones. I laid these staggered over garland that was intertwined through the candle sticks!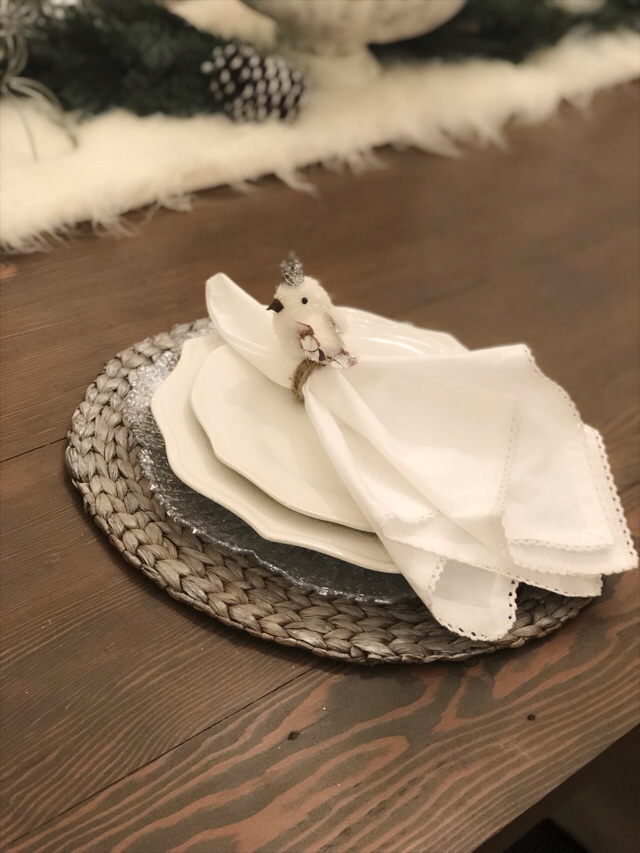 My place setting are all from pier one, they have the best stuff! Depending on what's going on I add or remove plates for more laxed or fancy looks. I found these cute little birds that had clips on them, I got the idea of using jute twine as a napkin ring because I wanted the birds to stand out, not the napkin ring!
For the chairs I placed small wreaths that I got from hobby lobby! I tied a small thin white bow on them to tie in the white from the napkins and table runner. The trick is to make everything flow.
For other greenery touches, I placed faux garland springs around the top of the chandelier. This is something you don't always see so I thought it looked really cute and different!! Again, touches like these are so simple and inexpensive.
Ryan also has this huge old window on the wall behind the table that he got from an old uptown house he worked on. He changed the glass out with mirrors. This is something that's a great idea at any time to give a big empty wall a special touch while still making it simple! I placed garland around this and draped one of my favorite little Christmas goodies on it! I got this cute banner from Etsy a few years ago and I always love how it looks!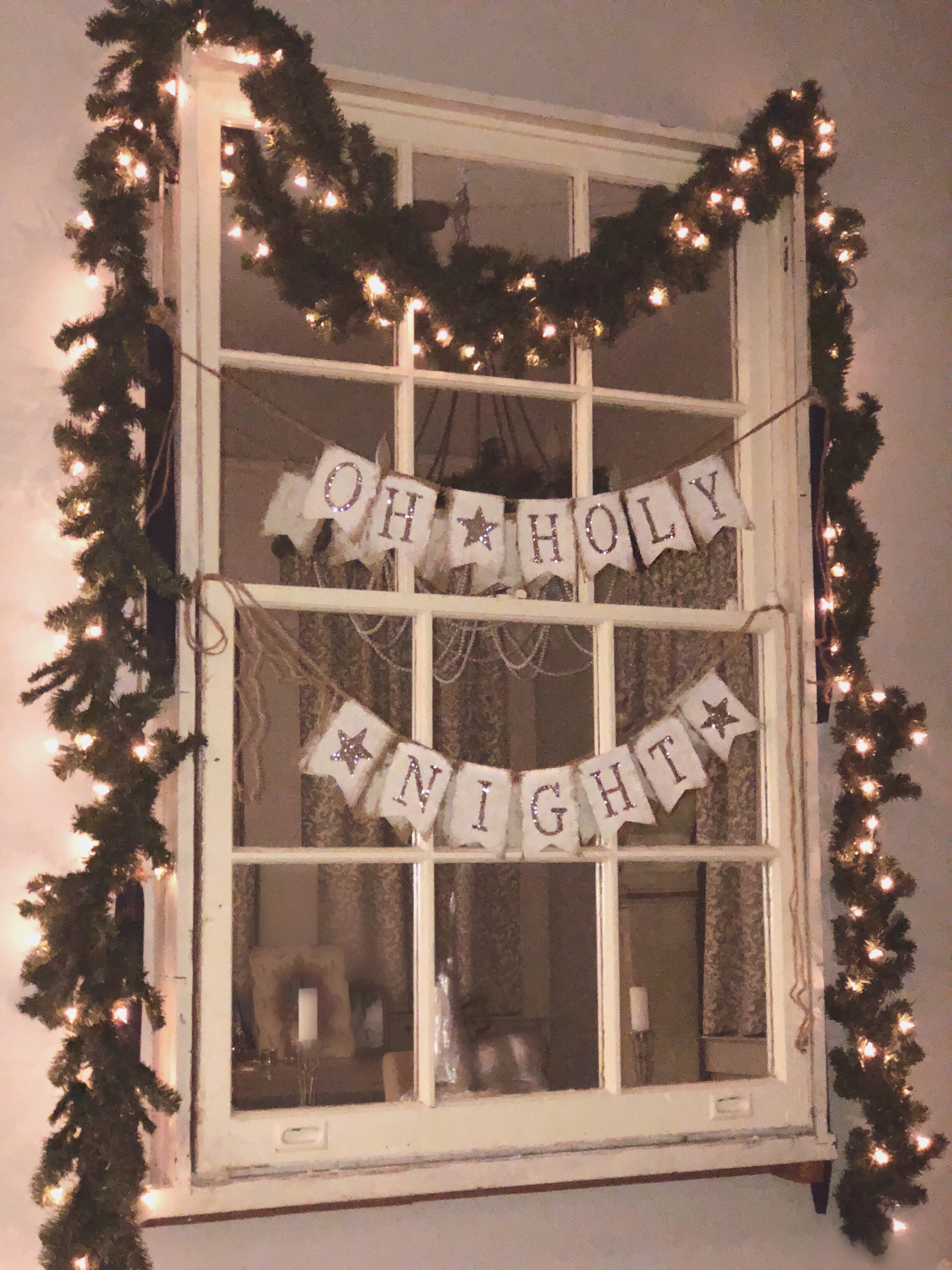 Hope this post can give you guys any last minute Christmas decor inspiration since I know I got around to it a little late in the game. However these are always great things to keep in mind for next year, and some of the things in this post will go on sale I'm pretty sure once Christmas is over! It's always good to stock up for next year while the gettin' is cheap pahaha!
I am linking a ton of products you can use to re-create this look in the 2 sliders below! Scroll though and click the things you like to be directly taken to the page!
-EVERY DAY TABLE DECOR-

-CHRISTMAS RELATED DECOR-

XOXO, CHELSEY RAE