Hey yall! Merry Christmas! I hope each and every one of y'all got all the goodies you wanted & spent it with all the people you love! I'm currently plopped on the couch blogging while you've got mail pays in the background, one of my favorite go to movies!
Today was not exactly picture perfect on my end, I got goodies & got to spend it with all favorite people, minus Ry, because Santa brought him THE FLU! Talk about a bummer! We woke up and he said he still felt pretty bad from Christmas Eve so I brought him to urgent care, left to make stuffing (because there was a 45 minute wait), and picked him up to find that out! Poor thing came home and hasn't really got out of bed since, I feel so bad for him! He's pretty much quarantined to our bedroom & I'll be sleeping upstairs tonight! Fingers crossed he feels better soon & that I don't get it!
I do have to say my Christmas outfit was pretty cute though in spite of everything pahaha! Have I mentioned before how much I love white on white? Probably so, but I'll repeat myself! I LOVE WHITE ON WHITE! I feel like most people steer away from that because it's kinda a scary thought haha! But, it's easier to put together than you think & makes for a really great outfit that's not the norm because most don't want to try it out!
Most of the time with white on white I keep my accessories really neutral or do one pop of color (like a fun bright color in the summer). But other then that the rule here should be keep it simple! Another key is to make sure (most of the time) your white have a small smidge or a difference in color!
I paired today's outfit with the cutest blush vest, a white blouse, white distressed jeans, and some pumps! All though I don't have all the exact pieces I linked LOTS of options to recreate below the picture & will link more similar items I found in the shop the post slider at the end of this post!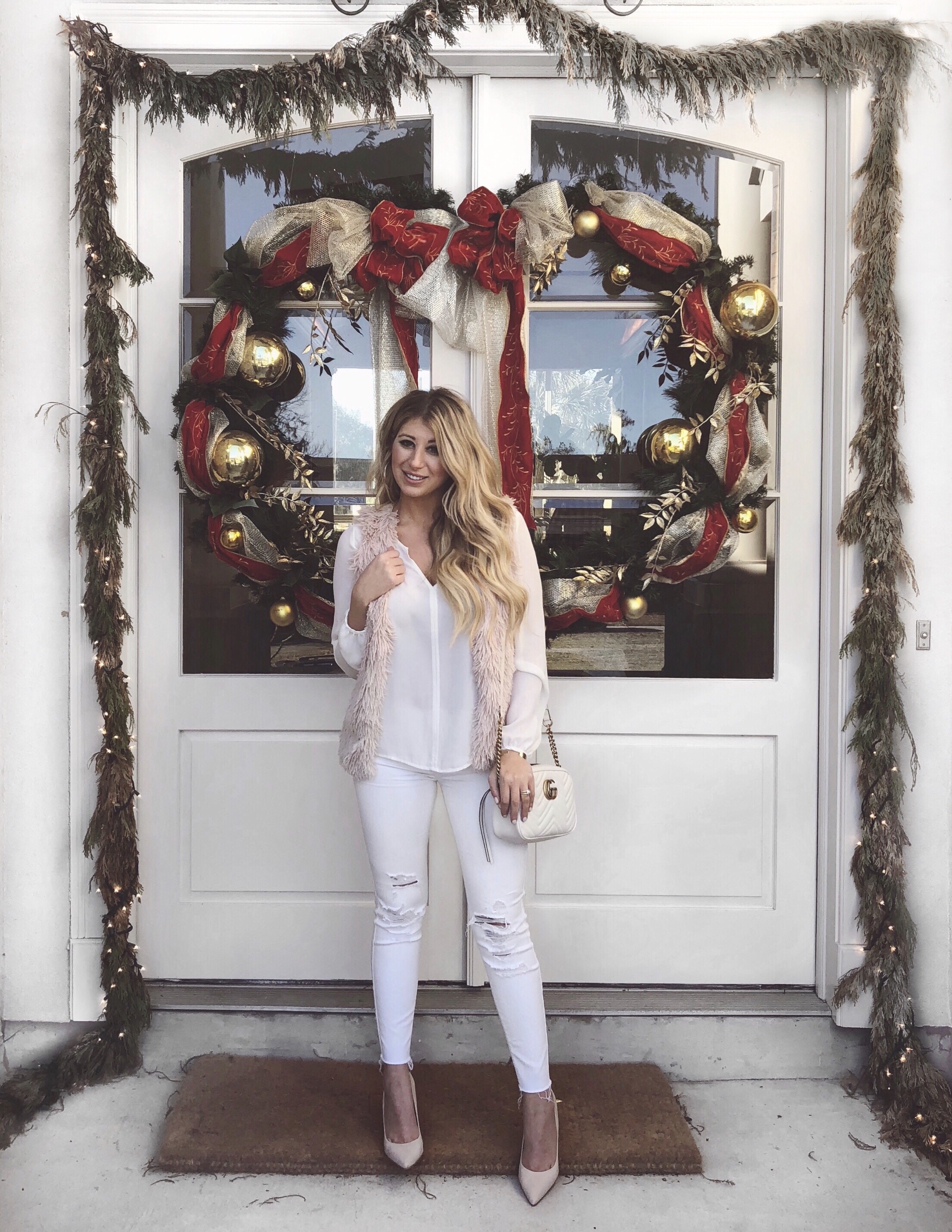 Vest | Shein $19
Blouse | Forever 21 $14
Jeans | Nordstrom $65
Shoes | Aldo $80
This blouse actually had tie strings in the front of that v to tie it closed, I cut them off! I am FAMOUS among my friends for always rigging my clothes, cutting them or pinning a billion things here or there! Whatever makes it work!!! Also, since the shoes are pointy toe I went up a half a size.
I also want to note that you may see me tagging lots of things from the website "Shein" I love it but want to be honest with you guys, you may wait about 2 or 3 weeks to get your things, or you may wait 2 or 3 days. For the price the wait can be worth it!
I am officially about to pass out! Don't forget to check out a few of the other blush pink vest down below – they are super cute!!
XOXO, Chelsey Rae
-SHOP THE POST-