Trust me, your face depends on it! … or really any part of your body does!
(scroll down if you just feel like reading about the products and not my story 😜)
So – back in December I got a call saying a veryyy smalll bump in the right hand corner of my eye (about a cm away from my tear duct, that almost resembled a "milk bump" baby's get) was skin cancer, basal cell, and that I was going to have to have Mohs surgery ASAP to have it removed. Apparently basal cell is the best to get if your going to get it but, nonetheless, a call like that will make you wig the hell out. Especially if your a 29 year old girl who, let's be honest, is a little vein. "It could always be worse" yada, yada, "you should be happy it's something you can take out". I heard it all & totally agreed…
However at the end of the day I still laid in bed every night for about a month before my surgery and cried my eyes out. (Have you ever googled Mohs surgery?! Jesus lorddddd – this was a perfect example of the whole "don't google that rule". Pictures of people with half their faces torn apart come up. This is prettyyyyy traumatizing.) Anyway, every night I had all the questions, "why me?, I'm 29 how could this happen already?, how big will it be?, I never even tanned that much?, how different am I going to look?, how am I going to stare at myself at work in the mirror everyday with a big ole' scar on my face?". And my god I was so scared!!! I am SUCH a baby with pain or surgery of any type. Ryan was always a good sport and would find ways to make me laugh about it or just be there for me while I cried it out. He's the best.
I know some of y'all are reading this and are like wowwww you were worried about some dumb stuff, people die of terrible cancers everyday, it's not all about looks and so on and so forth. I feel ya, I get it, & that's 100% right! But at this point in time it was a kicker and I was having my moment.
About 6 months later I'd say my scar looks pretty good. The surgery wasn't nearly as bad as I thought, of course I had a dose of xanax and a pain pill so I was feelin' good. The doctor came in, numbed the area and got to work. Dr. LeBlanc on Metairie road did it & he was so sweet, he even let my momma stay in the room so I could squeeze the living hell out of her hand the whole time! All I really felt was pressure. I was there for probably a total of 3 hours & my margins were cleared the first time so they didn't have to go back in and take more skin. He thumbed-Uped us through the door to let us know it was all good and came back in to stitch me up while I watched Kardashian's & continued to squeeze Rhonda's hand off! The down time was about 2 days and my face was just super swollen! Now, you can definitely tell there's a little indent on my face by my nose & eye. Could worse things happen? Totally! but do I ever want this crap on my face again? NO!
Prior to this I was never a sunscreen girl. My family and I are totally sun worshipers. My favorite vacation is a beach one – my mom, aunt Renee, and I will lay there and bakeeeee all day & I love to be outside doing anything. If I was at the beach I'd apply sunscreen in the morning and that was it, no refreshing unless I was starting to burn. And on my day to day routine at home my "sunscreen" was any (if any) SPF in my foundation.
Fast forward to now and I am a FREAK. I've tested tons of stuff out & think I've finally found the best spf products/routine for me! I've been in the search for products that wouldn't make me break out and things that would go well with my make-up.
After doing some searching I found a company that REALLY gets it. They took into account that people need SPF that can be used with their make-up easily instead of it being complicated! How are you supposed to re-apply your SPF during the day when you have a full face of make-up on?! This was one of my struggles!
The company is called SUPER GOOP! and they literally have all kinds of products!! If you are searching for certain SPF things I would check out their entire website to see if there's things that suit your personal needs – for now I'll share with y'all the things that suit mine & that I think are pretty universal actually!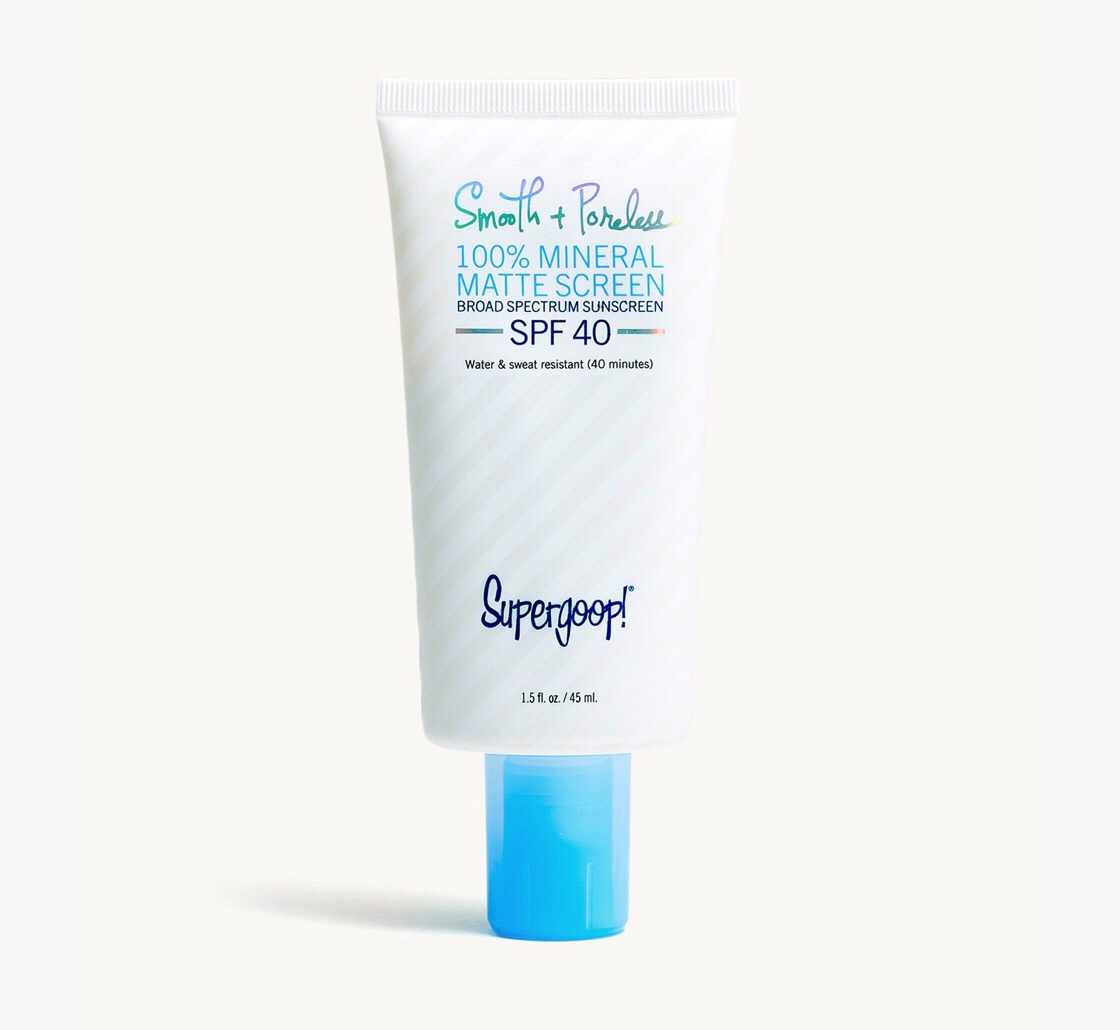 Smooth & Poreless Matte Sunscreen | $38
This is a super lightweight everyday sunscreen. It goes on soooo silky and it actually acts as a primer & a poor minimizer! It can be worn under make-up or alone because it has a universal tint so it matches any skin tone!
Defense Refresh Setting Mist | $28
Y'all, THIS PRODUCT! … GENIUS!!!! If I told you to pick one, it would be this one!! This stuff smells like heavennnn, it has the most refreshing scent & of course feel! This is a setting mist with 50 SPF. This is great because it sets your make-up while giving you even more protection! Also, it's great to refresh your SPF! At the end of the day when I get home from work and Hayden has a baseball game or something it's great to be able to spray this on and refresh, rather then taking all make-up off and reapplying!! This was also amazinggg at the beach, literally every hour I would respray on my face!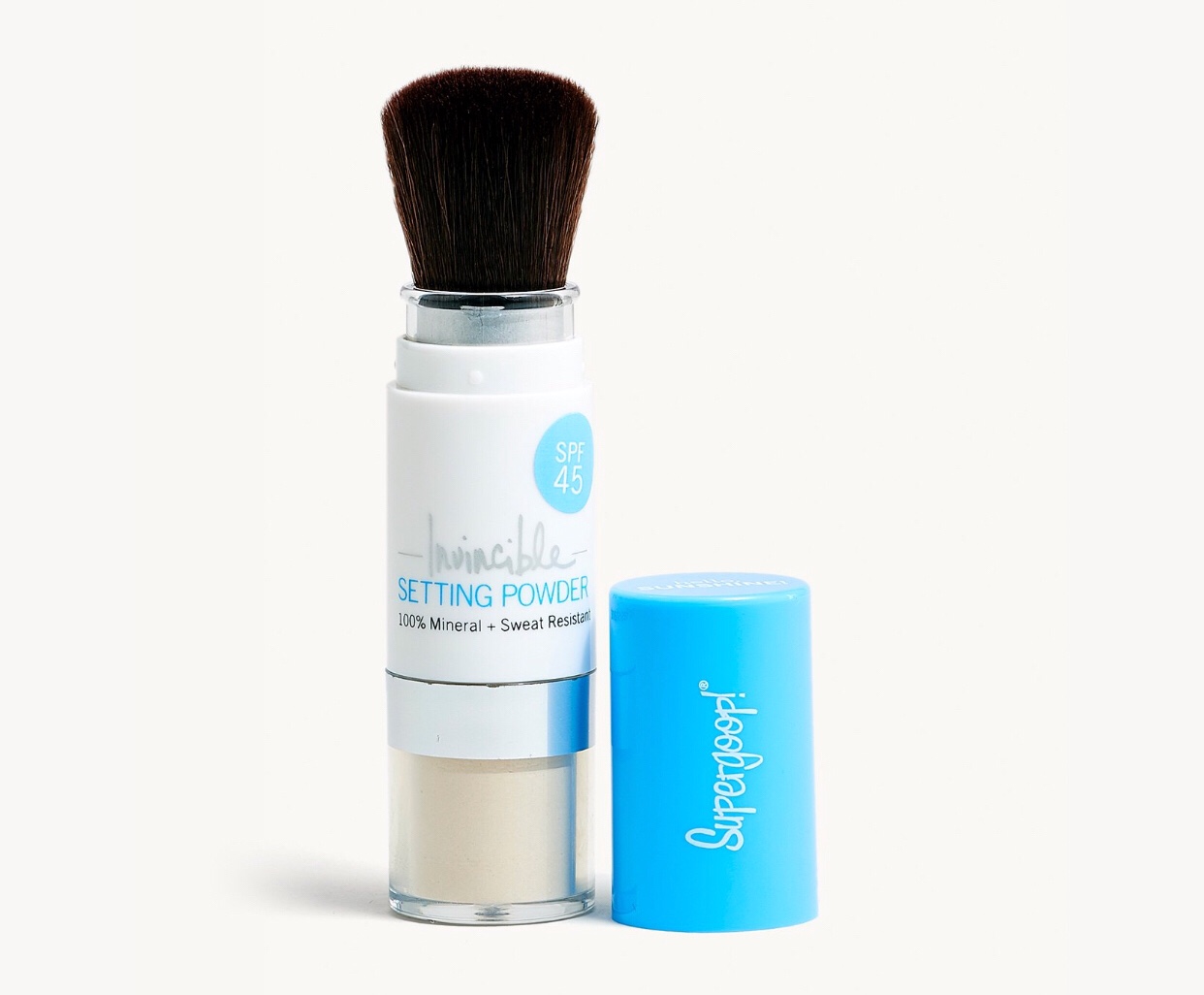 Invincible Setting Powder | $30
This is a translucent setting powder. Again I think this is a pretty smart idea! This is something that you can add ON TOP of your make-up to refresh your protection! Out of everything I'd say this would be my last pick strictly because the packaging needs a small tweaking. However, I did use this everyday at the beach before I put on the setting mist. The concept of this is perfect, but not as easy as the mist! The brush has a hole in the middle where the powder kinda just falls out but I tap it all over my face and then spray the spray! This powder is light weight and is a mineral powder so it feels smooth on! I like it and will continue to use, it just requires a little patience lol!
So those were my 3 picks from this line! I can't lie since I am psycho, on the days that I really know I will be in the sun I put on a REALLY amazing sunscreen Ryan bought me before I use the Smooth & Poreless this sunscreen is LA ROCHE – POSAY.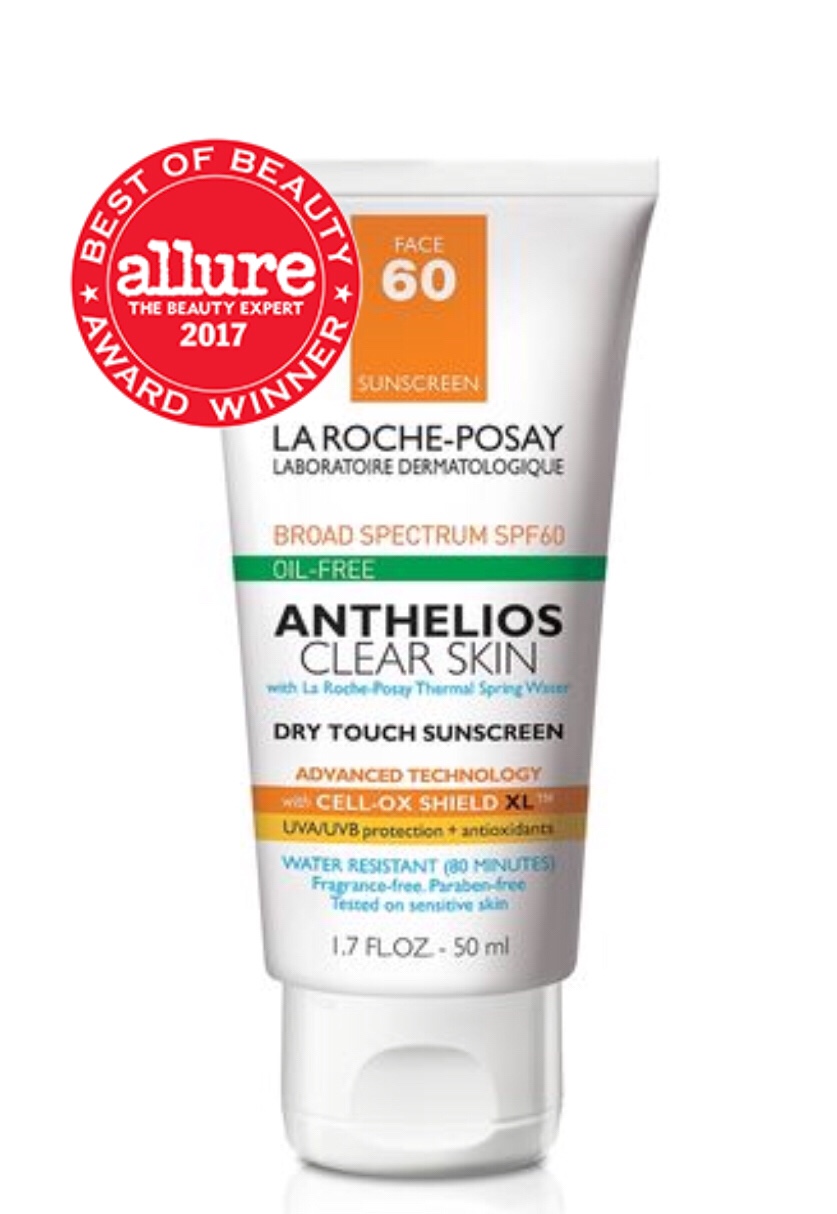 Clear Skin Dry Touch Sunscreen | $19
This stuff is THE BEST. I have sensitive skin & before was breaking out. When I started using it, break outs stopped which I am assuming were caused from the other sunscreens. This goes on smooth and is OIL FREE which is huge because your putting it on your face! It's light weight and doesn't feel heavy like most! This formulation was just perfect to me & for the price I feel like your getting an amazing find!
So, what is my daily routine now?
I of course wash my face in the morning, I apply a toner, then apply the LA ROCHE-POSAY. I let that sit for a minute while I brush my teeth or hair, then apply the SMOOTH & PORELESS. After that I'll go about my normal make-up routine and follow up with the Defense Refresh Setting Mist at the end. Just about 2 sprits!
That's all! And then later in the day if I have and outdoor activity I will re-spray the Defenses Refresh Setting Mist. I only have been using the Invincible Setting Powder at the beach.
If any of y'all have any questions about ANYTHING in this post feel free to message me! It seems basal cell is a more common thing than you'd think! This whole situation just made me so aware of really making sure I take precautions with my skin & wish I had been cautious of this a longgg time ago! Do I still want to bake when I go to the beach? ABSOLUTELY. But, now I know this is something I can be exposed to & also find as I've gotten older that my skin loves to develop dark spots in summer! So, all I can do now is make changes with how I protect my face!
Happy sun screening y'all & if y'all have any products y'all love for sun protection or for skin let me know!
XoXo, Chelsey Rae
– SHOP THE POST –