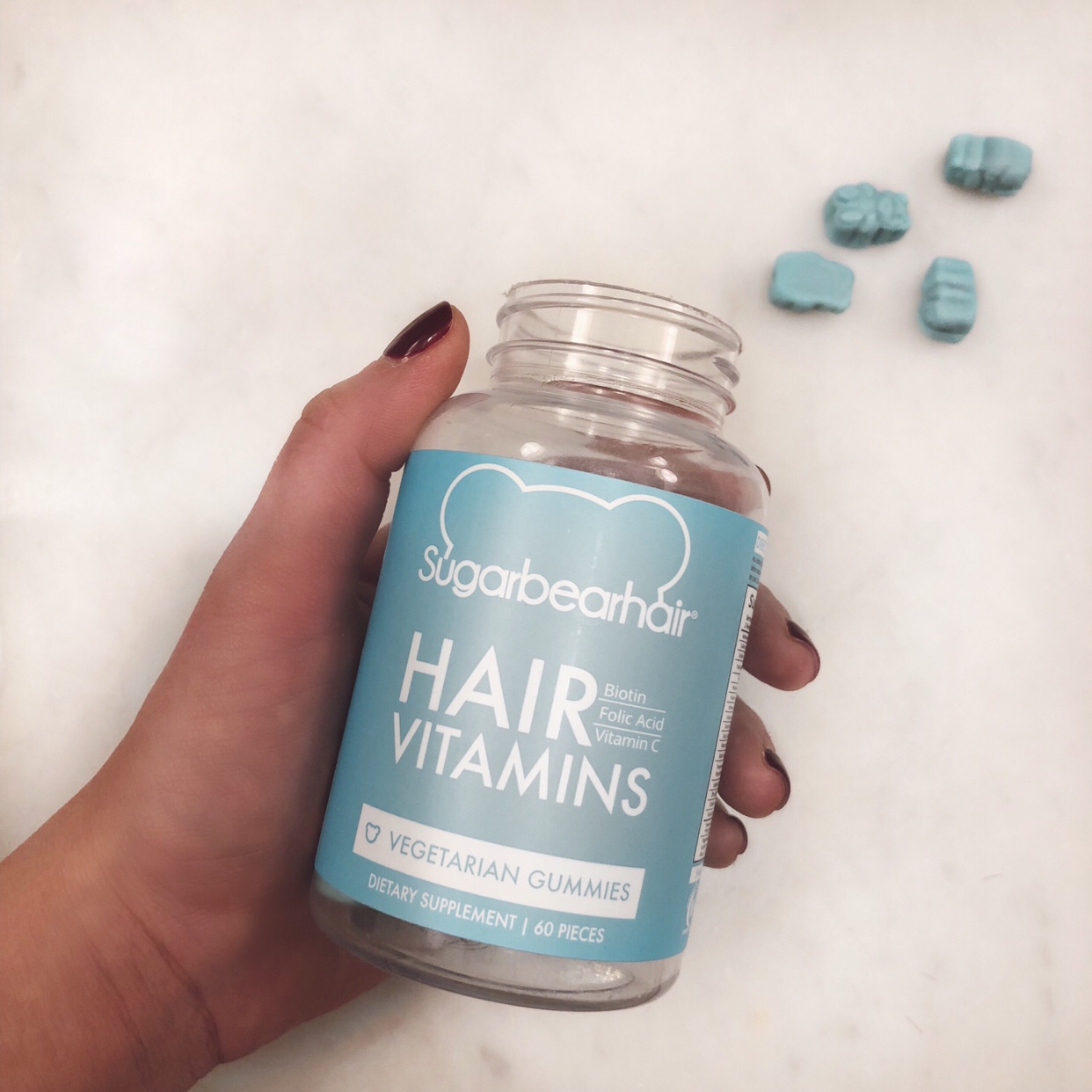 Happy Wednesday to all my blog peopleee!! Today I'm sharing with you guys something I consistently share with my clients & ive wanted to do a blog post on it for a while!!
Tons of people sit in my chair and ask me about hair vitamins, biotin, any pills I may know of that work! In my experience with hair pills I never really saw a difference in my hair. I even had a biotin once that I bought from Walgreens that said on the back to "take a hour apart from an oral contraceptive" … That went out the window because I'm like what?! Us chicks can barely remember to take that at the same time everyday without setting an alarm on our phone – I definitely can't remember to take that a hour apart! Another one made me breakout like CRAZY, my friend holly who works in the skin clinic at H2O (whose amazing by the way if anyone needs a facial 😜) did dermaplaning on me and I kept being like omg never again that made me break out & she was like I've never had anyone say that it's not that, blah blah blah! I was like yea yea whateverrr, well she came and slept over one night and when she walked in my bathroom to brush her teeth she was like when did you start taking this biotin? "Oh right around the time you did my face" she's like helllllooooo this is why your breaking out! Stopped taking it and I was all good!!
Anyway, to sum up a long lengthy summary of all the hair pills I've tried in the past, NO, none of them ever made me see a difference in my hair!
Leading me to this point, for about 2 years I had constantly seen these "Sugar Bear Hair" gummies. Tons of celebs/reality tv people/insta famous people endorsed them so naturally I was like this stuff is bologna because they are clearly paying all these people to post. Now while that's obviously the case, something stilllll told me in the back of my head to try them (probably because Kylie was posting about them, #suckermein). Not to mention they look really cute and yummy. Of course we all know how this ends, of COURSE, I did indeed buy them.
When they got to the house of course I immediately tried one because, duh, they are gummies. DELICIOUS. I put them on the counter in my bathroom next to my toothbrush & actually religiously took them everyday. When I was about three quarters done the bottle I was like whatever I'm not seeing anything different with my hair. I'll finish them out but I'm not reordering. But then I thought about it and I was like that's not fair. I mean really how is anything supposed to change your hair in a few weeks of taking it, or even a month? If so that would be a miracle pill and we'd all be taking it.
Think about it, nothing is done that quick when it comes to a change in your body. Why would your hair magically start growing like weeds that quick?! I decided I would buy another bottle. I told myself I was going to give it 2 – 3 months without shutting it down. I ordered the second bottle before I was done and again continued to religiously take it. Twice a day every morning!
Half way through the 2nd bottle & that was it. People at work started telling me my hair looked more heathy and shiny. They started mentioning (and I started realizing) that my shorter pieces on top of be crown of my head (a common breakage spot for blondes) was starting to get significantly longer, making the distance between that and the ends of my hair closer, I.E. not looking like joe dirt in the back. Now, getting compliments from hairdressers in the salon, that's big 😂 we all are so hard on each other and when your in the hair business you don't sugar coat it to each other, girl your hairs fried. The end. Panana and no one cares because we're all putting extensions in our hair like white on rice! It's just hair it can be fixed, or be faked to look fixed!
Bottom line, I finished the second bottle and ordered another. My hair had really started to look good. It was growing and was definitely getting the vitamins it needed because it was very shiny and soft. In the midst of moving I had ran out and forgot to order, it slipped my mind for about 4 months. I'm kinda one of those, even if I loose 5 pounds like don't tell me because I'll be like danggg I'm looking good I can eat this pasta. All down hill from there. Same with the pills, it's like you get it in your head that your good so you slack off.
I am now starting my second bottle of pills again! And I can tell my extensions are growing out a little faster. A downside, but still a upside because it's making my hair better.
I also have recommended these to a few clients, okay more like kind of rave about them. Of course some I can tell are probably like whatever girl, but I really have no benefit of telling my clients about them. It's not like we sell them at the salon and I make a commission (which would actually be awesome because maybe I'd sell some product for once 😜). With all that said I've actually had a good bit of clients try them out text me and say they love them and that they see a difference in their hair. One had even came in and said her experience was the same. On her second bottle she and her daughters saw a difference!
They are a tad on the pricey side but I'd say if your wanting to try them out I'd create a time line for yourself. If your on your 2nd or 3rd and don't see a difference don't waste your time/money! Of course everyone's hair is different, what works for me might not work for you! But, if your someone who is really trying to grow your hair or improve it's integrity anything's worth a try to get you where you want to be!
You can grab a bottle here with free shipping. I normally order mine on amazon here because I have prime and it's quicker to get to me plus ends up being cheaper than their website. The amazon link is to a 3 months supply but that's what I want so! Of course you can also go on their website and get one months supply or a subscription or whatever, click here and it'll take ya there!
If y'all have ANY questions, comment below or on insta or whatever haha! If it's something I can answer I definitely will!
XoXo, Chelsey Rae