Hey y'all! I can't believe it's already the end of January! Anybody else feel like that went way too fast?! With that being said, the big Valentine's Day is quickly approaching!
Lucky for me I've collaborated with a unique wood watch company – JORD –  just in Time for Ry's present to be this super cute watch & to giveaway $100 off a watch for one of y'all to give the perfect valentines gift to your boo, or even you (because let's be honest, I give myself gifts too)!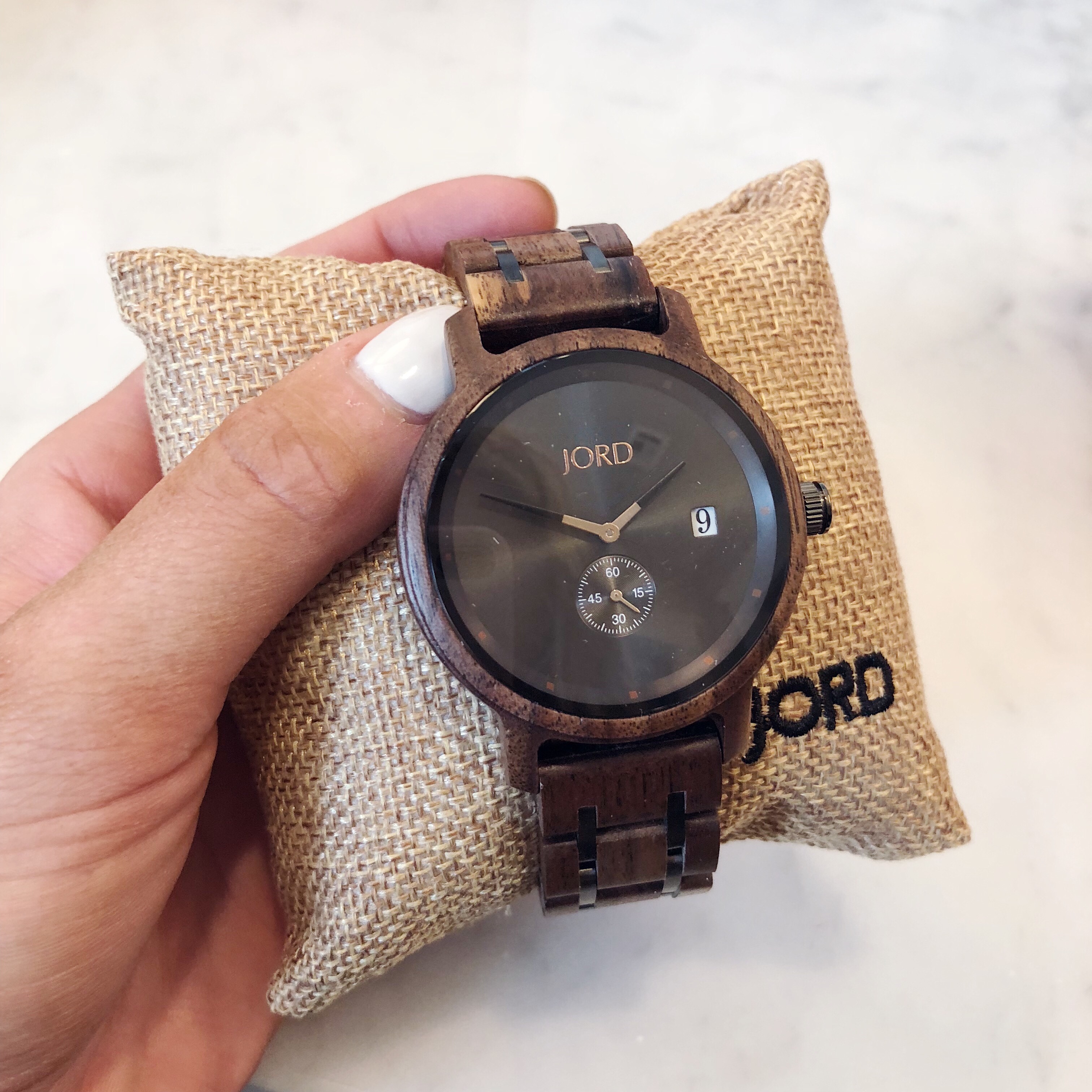 I don't know about y'all but I'm always pretty stumped on gifts for Ryan! I feel like he is always just getting things he wants so half the time I'm like what the heck, he already has everything! A watch can always be a good route to take because it's something they use everyday & can keep for years to come! When I saw this watch I was excited about it because it's so different – being that its a wood watch I knew it would give him something to wear on his wrist that not everyone else has! It's not your norm being that is made of wood & the craftsmanship is stunning! They also can engrave the watch which is always nice if your trying make it a little more sentimental!
The watch I picked for Ryan is from Jord's HYDE series & is walnut & black, you can find the exact one HERE . I also have to mention that it comes in this really nice box, that Ryan & Hayden both had to admire & smell the inside for like 5 minutes. Of course since Ryan is in construction he's like obsessed with any smell of good wood! Hayd ended up claiming the box in the end, so after this post it is officially his. Those two together crack me up like no other!
Side note: Jord actually makes wood watches for both men & women in a bunch of different styles & I can't help but eye a few up myself because we all know I have a shopping problem! The Women's watches  come in all different colors but I love the light wood ones that are dainty!
Again, these are just so unique & that's what really draws my attention to them! Now, on to the exciting stuff, THE GIVEAWAY here's the deal -> All you have to do is click HERE to enter. Everyone who enters gets 10% off but the big winner gets $100 off any watch of their choice! The giveaway ends on 2/11 at midnight, so make sure you enter before then!
Happy Valentine's Day prepping everyone!!
XoXo, Chelsey Rae