Hey y'all! Hope everyone's Sunday has been as easy as mine has!! I had to do absolutely no hair today which was great haha! Ry's parents came over with gumbo for lunch, which was so yummy & then we went down town to meet my momma and brockie at canal place for some shopping and dinner!! I got a goodie I've been eyeing up so it was a good day in my book!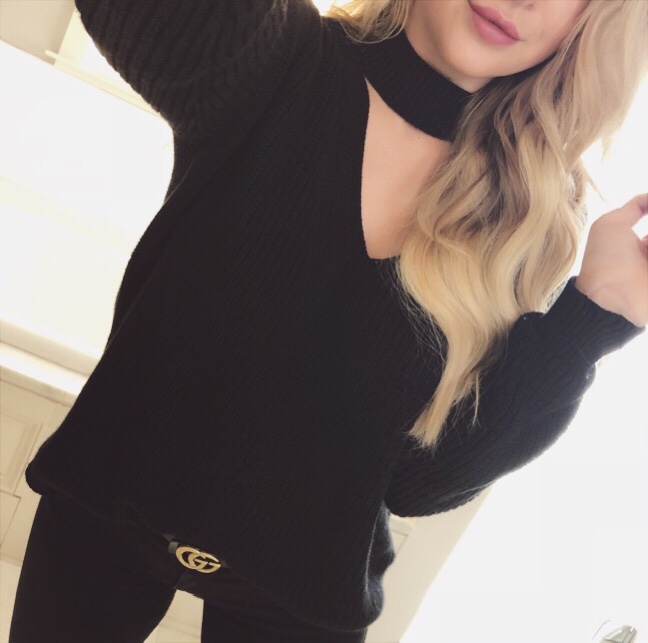 How cute is this oversized sweater & belt!? Im guilty of expensive things being on my mind lately or just any gift being on my mind lately since everyone runs around asking you what you want for Christmas!
With that being said, I thought I'd share my personal Christmas wish list with y'all! I have so many clients that sit in my chair and say "what are you asking for?". I feel like as you get older you run out of ideas for yourself! I personally just always say money when someone asks what I want or a maybe a gift card! As we get older everything we want tends to be more expensive too haha! I feel like we buy all the little & big things we want whenever we want them! But, of course there's always things we feel guilty for treating ourselves to or things well look at and say "oh, I can wait to get that".
Now, warning : some of this gift list is a little pricey but these are great if you need a "big gift" idea obviously these come more from parents or the main man in your life. Or from yourself haha! We all treat ourselves to a Christmas gift right?! Or is that just me!?
Y'all know the drill, details & links will be posted below the pictures! Click the link & you can add to your cart, or share the page with someone you love ;p

ONE • Valentino Donna Set | i cant lie part of me wants this just because the bottle is so pretty! I love sets because you get the lotion too! I'm one of those people who doesn't mix sents, I want them all to match haha! What's better then a matching lotion to your perfume!?
TWO • Sorel Snow Boots| between my brother living in Boston and me, Ry & Hayds annual ski trip, this girl sees snow a few times a year! I've had my eyes on these the past two years now but it's one of those things I put on the back burner and tell myself I will get when I need them. They are SOOO cute & the color would be practical because they are black & black matches everything! Plus the touch of fur pulls in the browns too!
THREE • Votivo Diffuser | i want this so bad! I have the red currant room spray and it smells so good!! One of those smells that you want to just be all around you, which is exactly why I'd love to have this diffuser in my bedroom! Side note: red currant is actually Madonnas "sex sent" whatever that means! Sounds fancy though pahahaha!!!
FOUR • White Makeup Brush Set | okay, I only want this because they are pretty .. and if we're honest it drives me nuts that all my makeup brushes don't match! This set is sold out but I'm on the restocking list so I can snag them when they come back!
FIVE • Paul Mitchell Marble Flat Iron | because this is my FAVORITE flat iron for Chelsey curls and my flat iron here at the house is about to give out on me + I love this limited addition print!
SIX • Gucci Belt | this is totally an insane gift to ask for, but I still want it in the camel color & will never buy it for myself! Just throwing it on here incase anyone else is feeling fancy this Christmas and would like to ask for a $400 belt! (Insert blonde emoji throwing her hands up and shrugging her shoulders here)
SEVEN • Nirvana Bourbon Dry Shampoo | i think I put this perfume on one of my other gift guides, I told you guys how I love the sent because it's not super girly! I've heard their dry shampoo is awesome and I would loveeee for my hair to smell like it too haha!
EIGHT • UGGS | I'm putting this on my list because Ryan made fun of my old uggs today when I put them on to leave the house. They are from when I was in high school & are falling apart + they aren't actually uggs they are "rebels". They look exactly the same and were also like $200 but apparently this is appalling, so, Ugg's on my list it is!
NINE • Kate Spade Velvet Makeup Bag | surprisingly, this is the thing I want on my list the MOST. I'm obsessed with it, I need a new makeup bag, it's blush & velvet. Need I say more? It's perfect. That's all.
TEN • Pottery Barn Robe | pottery barns robes look so comfy and cozy! I can't deal! I have a silk robe now from my best friends wedding that I run around in, but I really want a soft comfy one that I can put on when I get out the tub! Silk & wet don't mix!
Planning on making this my last gift guide but I've had a few people ask me to do a men's gift guide! I've been thinking about it, but I SUCK at men's gifts! I feel like I never know what to get Ryan! Maybe I'll put my thinking cap on and come up with some ideas to help y'all & myself out!
XoXo, Chelsey Rae
P.S. If you guys are shopping the outfit below SIZE DOWN on this sweater!