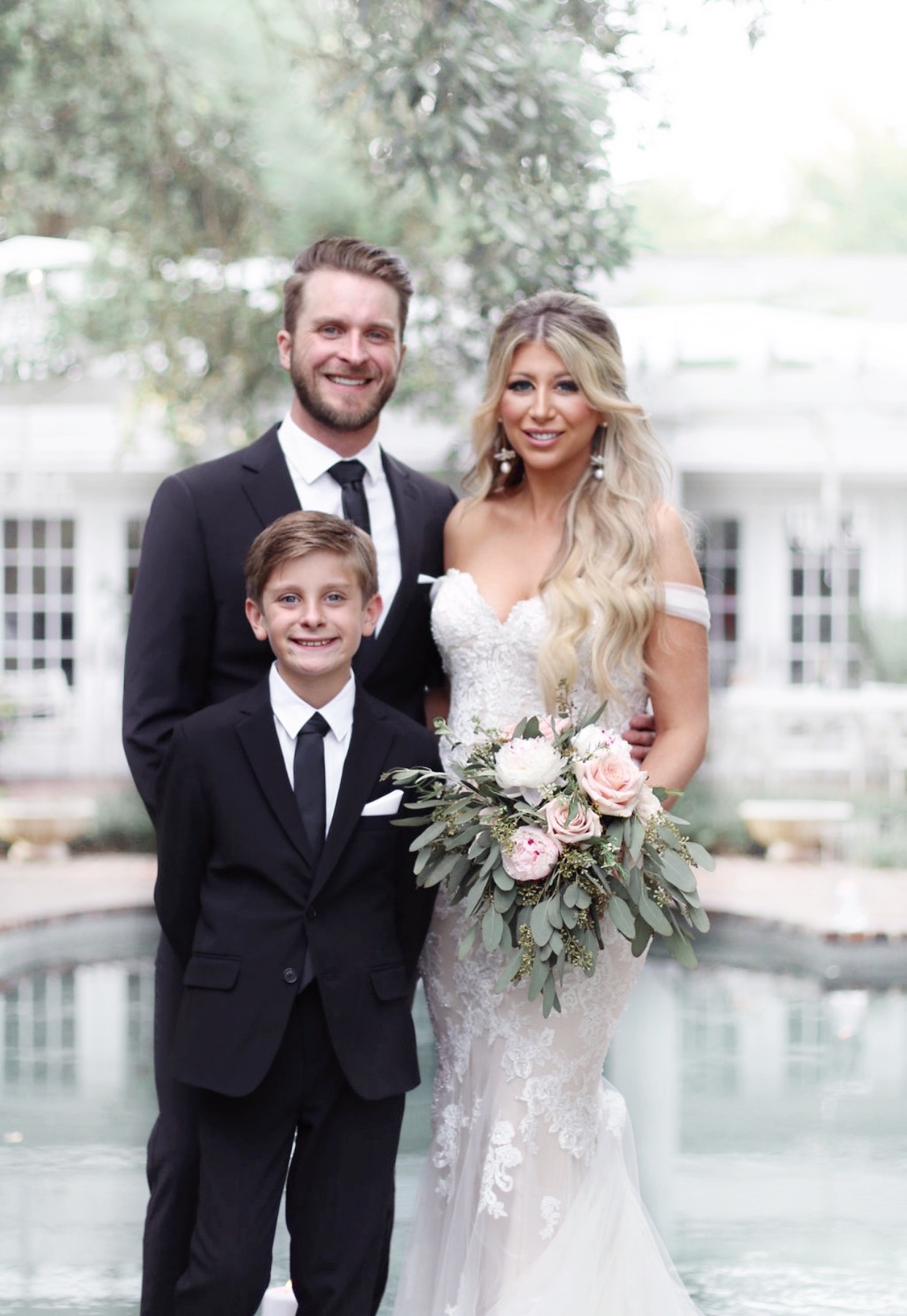 Hellllooo my friendsss!! I have been meaning to get on this post for the past month now but haven't gotten a chance to!
I am so excited to tell you all about our wedding that was in Pass Christian, Mississippi! On May 2nd I headed up to our venue with my momma which was actually a Air B&B that we rented on beach blvd. We got some things together, grabbed dinner and got things ready for the next day! May 3rd Ryan headed up with his work guys and they got busy right away moving furniture, hanging chandeliers in trees, and putting up tents (because rain was at about a 60% chance!).
We also had all the rentals delivered and got ready for our welcome dinner, which was at a gorgeous beachfront restaurant The Chimneys. The food is absolutely delicious and it's full of southern charm! The weather that evening was gorgeous and we ate dinner out on the porch with our closet family and friends and had a blast!! So many people made so many sweet speech's that brought on lots of happy tears! We are so lucky to be so loved and have so many great people in our lives! We headed to grab a few drinks after dinner at a bar across the bay and then headed back to the wedding venue to get some sleep! Me and Ryan didn't do the normal wedding thing, we stayed together the night of the wedding!
I can't lie I went to sleep that night stressed about the rain and praying the radar would clear, it actually wasn't looking to bad! Well … needless to say when I woke up to the sound of rain I reached for my phone before my eyes had even opened and I immediately opened the weather app to see nothing but red on the radar. Absolute hysterics started then. I'd love to say I played it cool but I completely lost and and balled my eyes out! Poor Ryan was probably like ummm…is it too late to run? What the hell? This is the morning of my wedding? pahaha! He calmed me down like he always does though!
After that I just kinda got over it and figured whatever will be will be. Though out the day the rain continued to pour, but my aunts kept telling me it would clear as they watched the radar and set up candles. I just decided to drink orange sorbet mimosas, do people's hair, stuff my face with canes, and get my makeup done (by the fabulous Rita who owns Luxury Beauty Clinic ) to keep my mind off of the weather!
I know what your thinking, duh dummy rain is ALWAYS a possibility with a outdoor wedding! And I know this, I'm the girl that said I would NEVER have an outdoor wedding because I couldn't handle the rain. But when me and Ryan got engaged, it's just what I envisioned for some reason. And with us keeping it smaller and more intimate it just felt right! I said if it rains it rains, whatever! Cool girl totally went out the window when it actually rained though! I honestly didn't care if it rained all night, I just didn't want it to rain while we said our vows under the big oak tree because where the heck else would we have done it? On the dance floor?! #devastated
Either way finally around 3:30 The sky's cleared. I was so thrilled! But, then it was time to figure out some other things! Before we get into that let me start by mentioning that I did have Elizabeth Burkhardt as a month of wedding planner. She was absolutely amazing and went above and beyond when it came to making my vision come to life, not only on the wedding day, but the welcome dinner as well because she stayed up all night and made me some amazing ballon garland. She completely took control on my wedding day and I didn't have to worry about a single thing!
We ended up having a little cake problem, so I am not going to link them here hahaha! Even though the cake tasted delicious, it wasn't the cake we had designed because our cake had collapsed not once, but twice! Liz so kindly didn't even tell me thank Jesus lol and she had them just get a white cake there to let the florist work some magic! The cake turned out beautiful thanks to Pine Hills Floral.
Speaking of the florist – Rachel, who I worked with, from day one was so easy and helpful. She knew exactly what I wanted and My florals were amazing! All we wanted was simple eucalyptus garlands, but we wanted them to be full & have a few pink or white roses in them here or there. Our venue was so full of foliage that we really didn't have to over do it! My bouquet was also exactly what I hoped for! If anyone ever needs anything done with florals I highly recommend them!
From the cake drama came another. Liz and Ryan wanted to know how I felt about not wearing my shoes down the "isle" which was now obviously sopping wet from rain. We all knew I'd sink if I wore my heels but I wasn't having that because my dress was fitted for shoes! Ryan and Liz (aka the dream team) got to thinking about what we could use as an isle runner.
I can't lie, this is one of my favorite parts of the day. Ryan went to see what was around the property that we could use to put over visqueen for a isle runner. He said leaves and I looked at him like he was crayyyyy. Now this property we were staying at had a chicken coop (obviously with no chickens anymore). Ryan proceeds to find bags of wood chip shavings in the chicken coop. Walks them up to the door where I'm standing in as he is standing outside in the rain. He's drenched from head to toe holding this bag of wood chip shavings telling me that we'll spread those over the visqueen and put rose petals mixed in. I'll never forget this moment – I looked at him in my head thinking this dude has got to really love me. He's not even miserable right now and he's been running around all day on his wedding day in the rain just trying to make it perfect for us. I looked at him and said "why do I feel like your enjoying this so much right now" he said "I love this, I love figuring stuff out". I swear, he's got the best attitude and I love him for it!!! At that point I laughed at the fact that I'd literally be walking down a isle of hamster shavings but it didn't matter, all that mattered was I was getting to marry him!
Things looked up after the hamster shavings. We were getting down to crunch time! … for those of you that don't already know, I have one of my very best friends Krista that is a photographer (Krista Cheramie Co.) ! She is the one that usually shoots all my pics! Also, sometimes there's a little Nina thrown in there for the blog too! She's amazing and is always so creative! She was my main shooter and I was so excited to have her do the wedding because she always listens to what I like and feel comfortable with! One of the things I love about her! She owns By Nina Celie ! Anyway, I love them both a ton and am so glad that they BOTH shot parts of my wedding!!! Me and Ryan the week of the wedding decided we would do a first look, but didn't discus where. Someone threw out the beach across the street and we all loved the idea! Ryan headed to the beach first with Nina and I threw on my Linen Jolie Bridal dress and followed with Krista a few minutes after! I was so glad we did the first look! I was worried about it feeling awkward but it was perfect for us! We laughed with each other, got a few AMAZING pictures and headed back to tie the knot!!!
I did ask a few of my girls to be "bridesmaids" but I literally just wanted them in pretty colors for a picture haha! And for them to know how much they do mean to me! Literally no one walked up the isle other then my two soo cute flower girls and me with my dad and stepdad! We had a beautiful ceremony under a big oak tree and a lit up chandelier. We had a harpist that sounded so pretty and we read each other our own vows! When Ryan told me he wanted to write our own vows I was pretty petrified, I was like no way! His response was "well you don't have to but I am" …. ummmm wellll of course that means I'll have to or I'll look like a jerk! In the end I'm so glad we did – it was such a special moment with him that I'll never forget!!
After the ceremony we grabbed a few bites of food in the house, grabbed a drink and headed out to our first dance! We danced to "speechless" by Dan + Shay which was so funny, because Ryan doesn't even like country and that was one of his picks! From our first dance on we literally just had an absolute blast with our family and friends! I was determined to have so much fun at our wedding, to get to spend time with Ryan, & to just dance the night away!
I did & It was easy to do just that and have fun because literally everyone invited was so close to us that we didn't feel pressure to have to entertain! I literally was on the dance floor all night with my family, friends & Ryan!!
Despite a few hiccups, I am so happy and blessed that I got to enjoy our special day so much & that I got to do it with every single person that was there! I look back and always tell Ryan "our wedding was so fun" and that's all that matters, that we got married + we had a good time! (And we better have because that shit was expensive 😜).
Me and Ryan both appreciate everyone's help so much, from my mom, Ryan's parents, to my aunts, Ryan & his guys, Liz, my cousin em, and my very best friends! If your reading this we love you guys TONS!
And that's it! That's our wedding story!
Posting lots of pictures below + adding a slider with tons of things I purchased and used for the wedding. A lot of you guys also ask about my wedding gift to Ryan, my gift to him was a illustrated book that was "our story" it took me about 6 months to write the book with the illustrator drawing as we went along. The book was over $1,500 for those asking and I will link all of Laurels information HERE.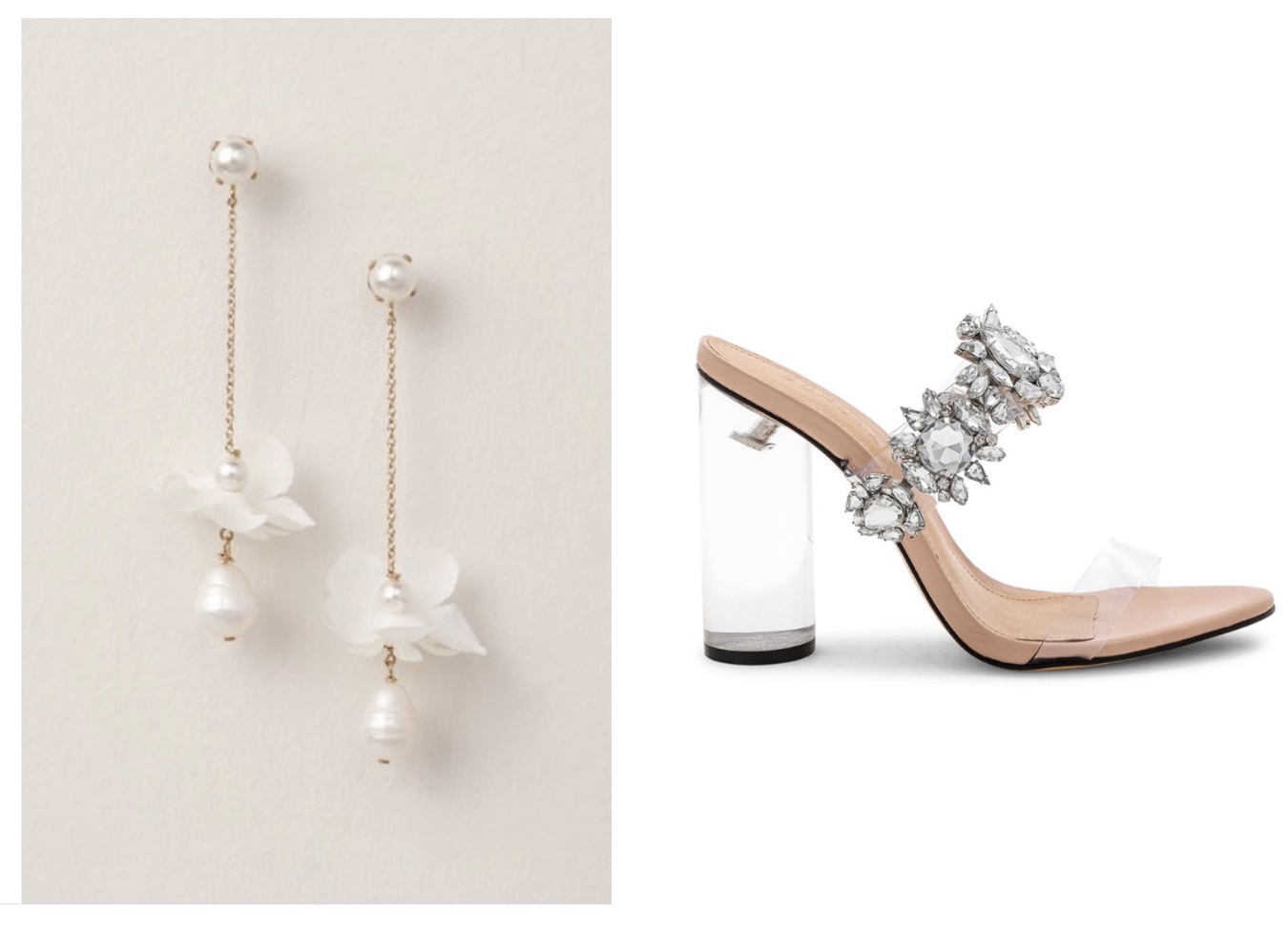 Drop Earrings | $95
Lucite Heels | $260
– WEDDING PURCHASES –
XoXo, Chelsey Rae