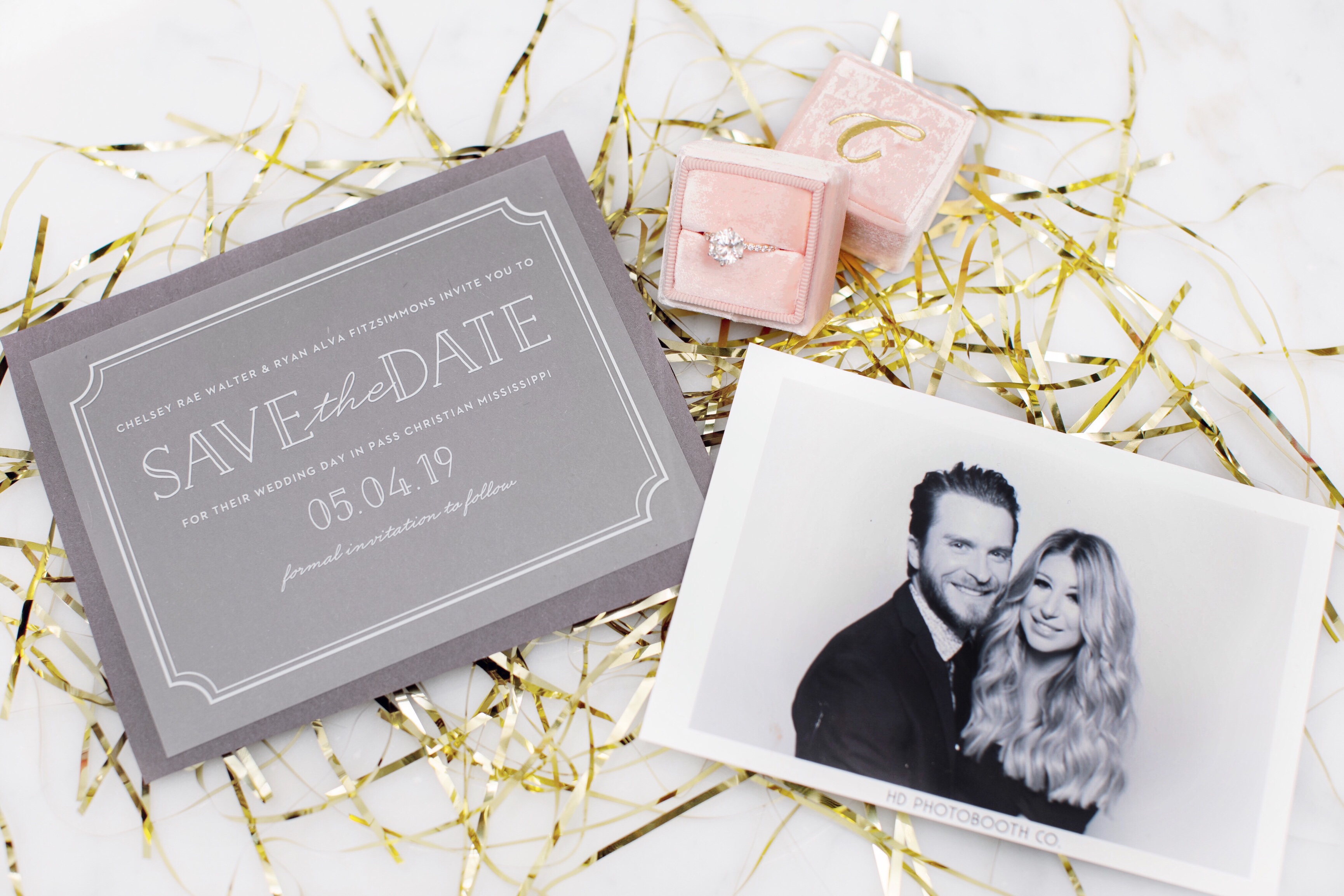 Hey y'all! I've been so excited to get this blog post out! I found the cutest website to order invites for all types of events and I couldn't wait to share it with you all!
Over the years I've had experiences with all sorts of invitations, from the custom made ones that break the bank, to the easiness (or not so easiness) of Etsy designs & print outs. Invites can be so stressful/expensive and really, they shouldn't have to be!
I knew for our wedding I wanted to do a easy save the date & invitation but that I wanted it to be a little different than anything I had ever done! I had seen on Pinterest a certain type of invite that had caught my eye & I knew that's exactly what I wanted to do.
I wanted a vellum type invite. I knew it had to be expensive so I searched the internet finding all sorts of things that would break the bank. I explained to Ryan what I was looking for and of course in two seconds he finds it. He shows me this gorgeous clear invitation that is actually super affordable. Did you really find that? That's not real I said, too good to be true! His response was yes it was and he forwarded me the website.
The website was BASIC INVITE , I pulled it up and immediately fell in love, like with everything haha! It was EXACTLY what I was looking for!
Their website not only has Wedding save the dates and wedding invitations, they have announcements, wedding favors, photo cards, stationery, wedding websites, stuff for graduations, & baptisms! + almost everything on their website is 100% customizable, with colors, moving fonts around and so forth!
Picking out/customizing my Save-the-dates & wedding invites literally could NOT have been easier!! We pulled it up, filled in our info, customized it to our liking, and the BEST part, ORDERED A SAMPLE! … y'all, having this option was amazing! As I mentioned we wanted something vellum looking, basic invite offered both a clear & frosted option, so we ordered a sample of both! This was so nice because they came in quickly and we got to pick which one we loved more! The clear was pretty, but we felt the frosted let the text come through a little better since we were sticking with white!
Our save-the-dates came in and were perfect! We loved them so much that we went with the same type for our actual wedding invites as well! These were so easy because basic invite also offers FREE envelope addressing and seal & send envelopes! They also have tons of different color envelopes (even foil options) & liners, I love this because it can give your invites a special touch!
They just made making both my save-the-dates and wedding invitations a complete breeze, which is nice when you have so many other things going on, making decisions here & there and dealing with tons of other things that aren't that breezy haha!
I also mentioned above that they have wedding favors! Something cool on their website that I thought was really different was their wedding coasters for a favor! They have tons of designs for this and all the colors can be completely customized to your wedding colors! They can even have your photos put on them! Just a cute and different idea!
Check out their website here BASIC INVITE.
XoXo, Chelsey Rae