Hey y'all! Keeping today's hop on short and sweet because, duh! It's Saturday! And my days been a little crazy, started with Hayds first communion, (he was such a little cutie up there on the alter acting like a angel 😇😂) then I headed to work in the monsoon that this beautiful Saturday has brought us, and later tonight we're going to melting pot to celebrate some more!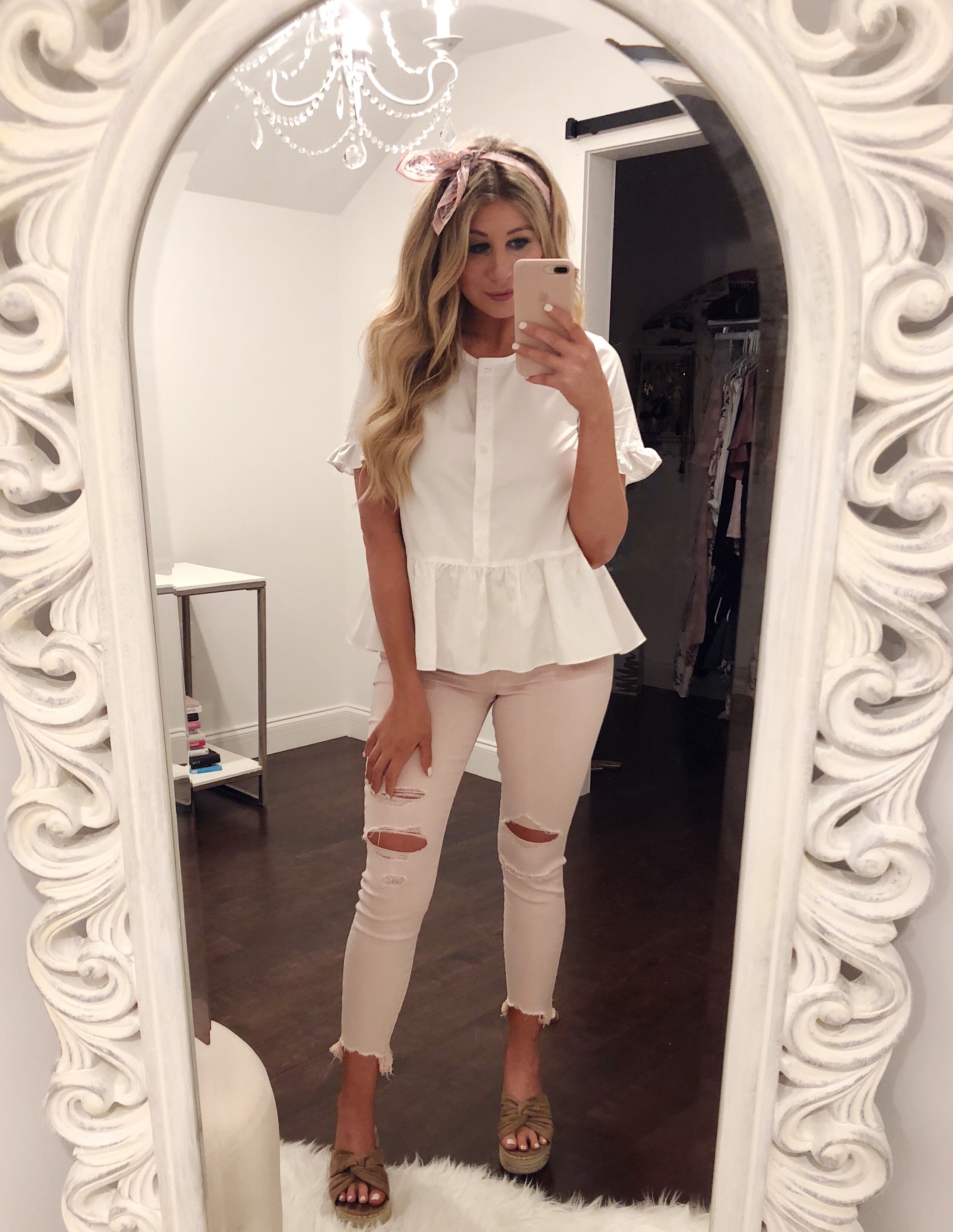 I wanted to share these jeans with y'all & the similar pair I found because they are on sale! I'm also sharing this cute too because it is flattering for all body types and is definitely a staple summer piece! It is a little pricey but it's versatile so it can be worn casual or dressed up creating lots of outfit options!
Madewell | $54
Here I'm pairing the shirt with blush colored jeans I found at Abercrombie! I can't believe I'm saying this but I think I have a new found love for Abercrombie jeans! I absolutely LOVE how these fit, I love the cut & where they are hitting me in the leg! These were a overall win for me! I am normally a 27 in jeans but sized up to a 28 because, ABERCROMBIE, need I say more? Anyway, I am also linking a pair I tried on at American Eagle that I almost got before these stole my heart! Both were a great fit but the American eagles have more of a jean legging feel!
Abercrombie | sale $44
American Eagle | $37
My hair scarf is also from madewell im linking it below the photo but want to say how much I am loving this trend! It's so in and it's a great way to spice up your hair style without having to change anything! This is a fun way to add an extra accessory to a look & for $12 I'll take it!!
Madewell | $12.50
And that about sums up my fit! I hope everyone has a fabulousssss Saturday night and a relaxing Sunday!
XoXo, Chelsey Rae
– SHOP THE POST –