Hey guys! I am so, so, excited to get my bridals back from the amazing Nina Celie. We did them after the wedding (after she had told me to do them before over and over but I was hard headed). At first I was like ohhh I don't need bridals, but then regretted it, especially because I was absolutely obsessed with my dress … maybe I just wanted another reason to put it on! Haha!
If you guys have been following along for a minute then you know that a few months ago I posted a blog all about wedding dress shopping and finding my perfect dress at Linen Jolie Bridal (click HERE if you want to check it out).
Today, I finally get share that dress with you guys and I wanted to take some time to express how amazing my whole experience with Linen Jolie was! If anyone reading, or if anyone you know is getting ready to go wedding dress shopping, I highly recommend booking your appointment a.s.a.p. if you want and unforgettable experience!
The reason I loved them so much was that they made picking out my dress so enjoyable from start to finish! My sweet stylist Megan was so attentive/helpful and having my close family and friends there in an intimate setting made it even more special!!
Linen Jolie has a wide variety of amazing gowns to pick from, so going into my appointment I had a few pictures saved on my phone of what I envisioned – I knew I wanted to go with a lace dress that wasn't stalk white, I wanted some type of nude underlay & I was pretty hooked on having off the shoulder sleeves. I tried on a bunch of the dresses Megan grabbed, she would help me put on the shoulder sleeves to get the feel & we eventually narrowed it down to my perfect dress!!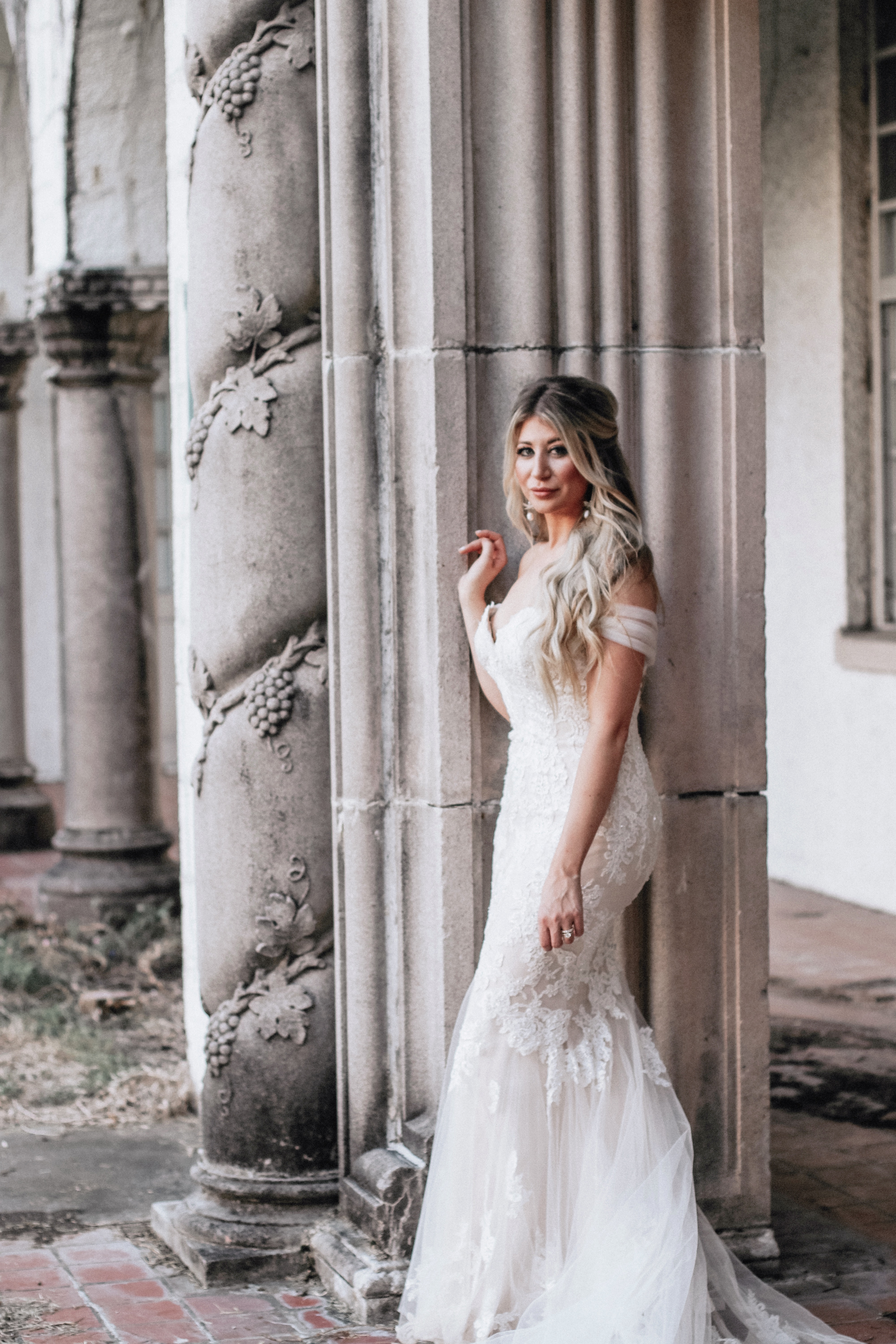 I can't express enough how much it meant to me that they really let me take my time, encouraged me to try on dresses over and over to make sure that was THE one, and that they were honest with me if I was on the fence!
I ended up going with a dress by Enzoani. It was a mermaid fit with a sweetheart neckline & it had beaded lace, with a gorgeous tulle bottom! As soon as I put it on I loved it! I ended up having tulle sleeves added and also cut the neckline a little deeper!
If I can tell you on thing, it's that absolutely lovingggg my dress played a huge part in my wedding day!! I felt confident in it, I loved it & it basically just made me feel my best – which in turn made me feel good all night & made me absolutely fall in love with it all over again when I see it in pictures!
Bottom line, I adored my dress, I LOVED shopping at Linen Jolie, I had a blast getting to spend this special time with my family/closest friends! I am so thankful for the girls there that helped make my experience amazing, because it lasted for way longer than just the try on! …. Shoot, I will probably try to find another reason to wear it again soon pahaha! Just kidding!
XoXo, Chelsey Rae