Happy Wednesday people! Officially only 6 days left until we ring in the New Year which technically means days to order NYE outfits are dwindling! CUE PANIC MODE!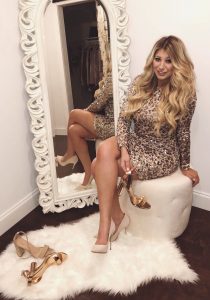 Anyone have any amazing plans for New Years? We have no plans yet lol but I'm the girl whose totally okay with standing in the driveway popping fireworks & playing with sparklers (my inner 5 year old comes out if you pull out a sparkler)!
Of course like any girl though, I love a reason to dress up in sequins! It's actually been a few years since I've gotten all dressed up for NYE. I'll be craving it again soon haha!!
In the meantime this blog is great because I get to live vicariously through everyone else! I kinda get to shop for everyone else & that's what I love!
I've compiled a few sliders down below with tons of New Years options! You'll see a few things on repeat here – Sequins, because they are kinda a New Years staple! Silk or Satin, starting to see this fabric everywhere! Very in! Velvet, how did velvet ever go out of style?! Lots of wrap or "front tie" dresses, this is the new thing right now. I can't lie, I'm into it. Especially because it means I don't have to suck in like a psycho all night at an event lol! Just keeping it real!
Use the arrows to move left to right, prices and places are written underneath each option & if you wanna shop it – all you have to do is click it!
-SEQUINS-

-VELVET-

-SILKY & SATIN-

-JUMPSUITS, ROMPERS, PANTS, & SKIRTS-

-OTHER PICKS-

Hope everyone finds the perfect New Years outfit! Y'all have to let me know if you scoop anything up from this list!
XOXO, Chelsey Rae