Happy Monday y'all! Sharing a little recipe today because it's been a while since I've shared some cookin' stuff! How delicious does this look?! (P.S.- that's Ryan's hands not mine)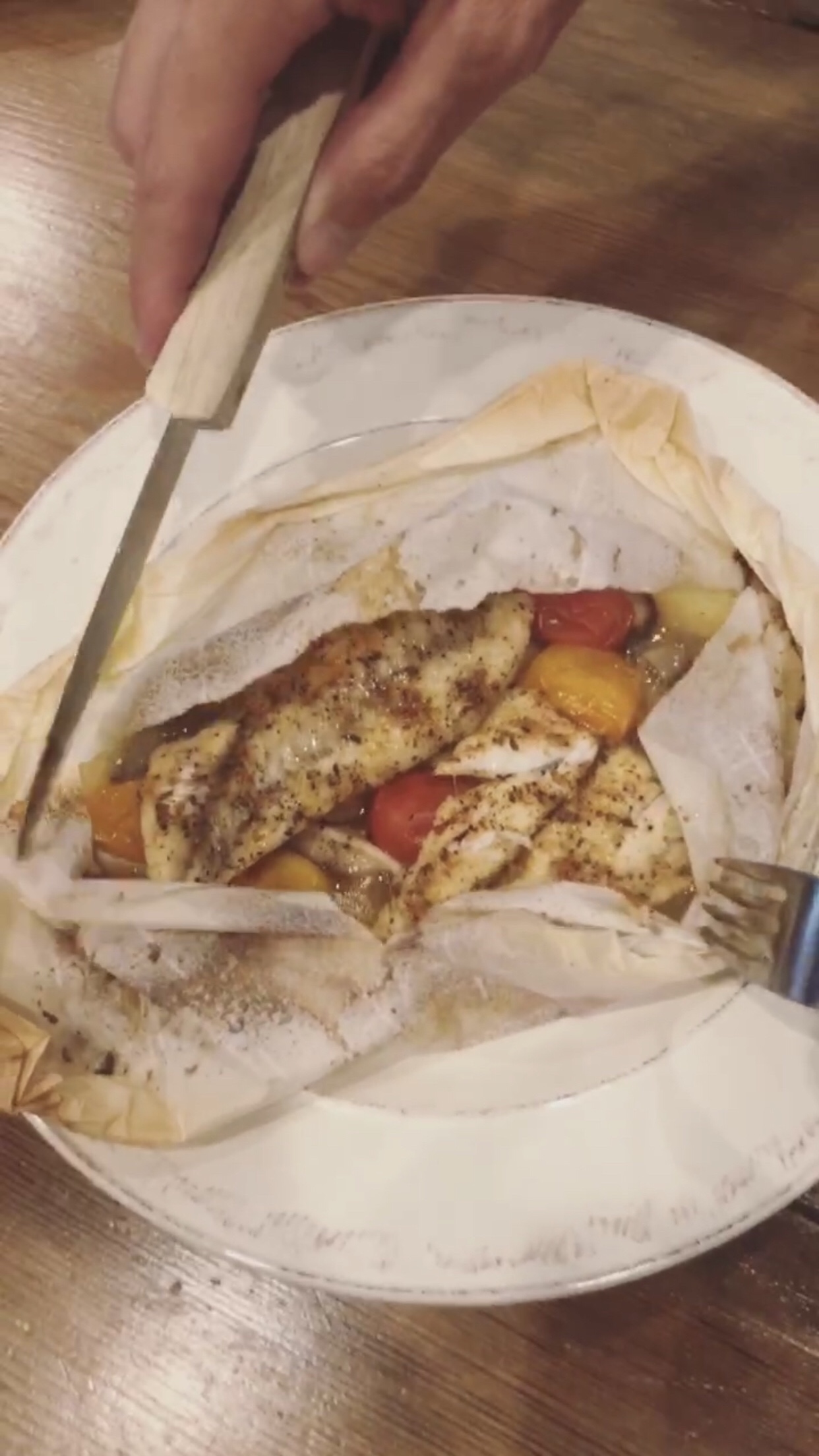 If you've been following along for a while, you know my cooking drill – if you haven't, I like quick recipes & don't normally tend to have measurements for you guys! I know, what the hell right?! But honestly the whole deal is, you shouldn't take cooking too seriously & should make it your own!! If you like spicy add more spice, if you hate lemon, leave it out! It's your meal, do whateverrrr you want to do! This is just an easy outline!
This recipe is super fast & easy! Not to mention it's healthy! It only takes about 20 minutes! One of the reasons I love to cook fish!
– HERES WHAT YOU'LL NEED –
• 6oz Fish Filet, a white flakey fish does best. (we used trout in this particular recipe)
• Mixed cherry tomatoes cut in halves
• Mushrooms of choice (we used sliced portobellos & oyster mushrooms)
• Dry White Wine
• Extra-Virgin olive oil
• Lemon Juice
• Butter
• paul prudhomme seafood magic
• Salt & Pepper
• parchment Paper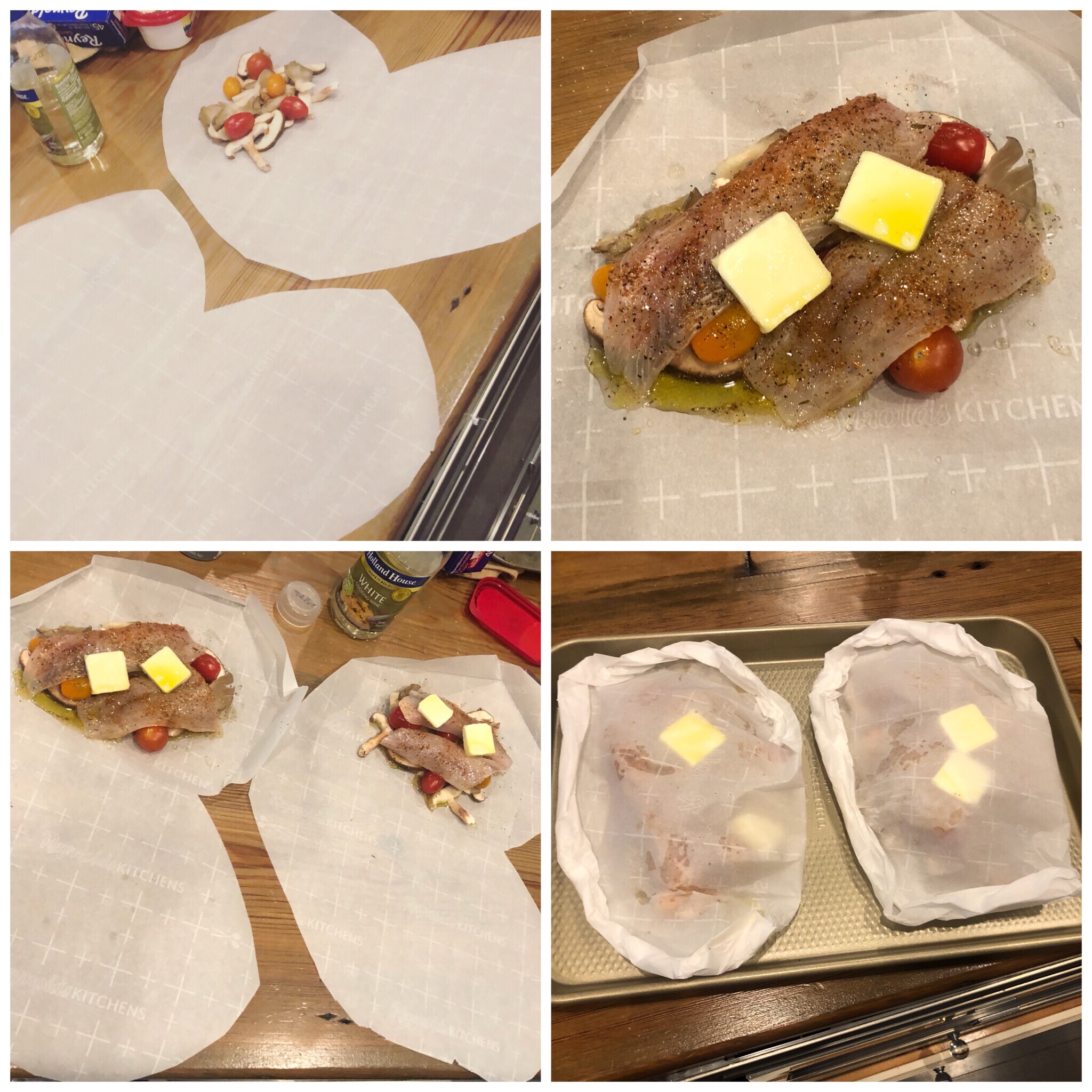 – HERES WHAT YOU'LL DO –
• Preheat oven to 425 *
• Fold parchment paper into a large square & use your grammar school cutting skills to cut a heart off of the fold, like the photo above.
• choose a side of the parchment paper heart to work with. Fold a small end over about half a inch all around that side of the heart. This is just to keep the liquid inside. See picture above again for example, bottom left.
• In the middle of the parchment paper place your mushrooms & tomatoes (or whatever veggies of choice).
• Drizzle veggies with olive oil and lightly season with salt and pepper.
• Pour about 2-3 table spoons of white wine depending on how much juice you'd like.
• To the side, lightly season the front and back of your fish filet with the seafood magic seasoning.
• Place fish directly on top of your veggies.
• Drizzle a tad more olive oil, season with more salt and pepper if you'd like and also squeeze a little bit of lemon juice as well.
• Add two pats of butter to the top. And at this point you are done seasoning fish.
• Fold over other side of parchment paper heart covering fish. Take bottom and top edges together and tightly roll them towards the fish all the way around the heart. This is too make sure no juices leak out.
• Place on baking sheet and put in oven for about 15-20 minutes.
– HOW YOU'LL EAT IT –
• When fish is done carefully transfer parchment bag from the baking sheet to your plate!
• Use a knife and fork to pierce top of bag and cut open. (think like your making a bowl so all the yummy juices stay in the bag & don't run all over your plate).
• Dig in & listen to everyone you cooked for y'all about how delicious it is, not to mention impressive.
• Don't tell them it only took 20 minutes and was super easy.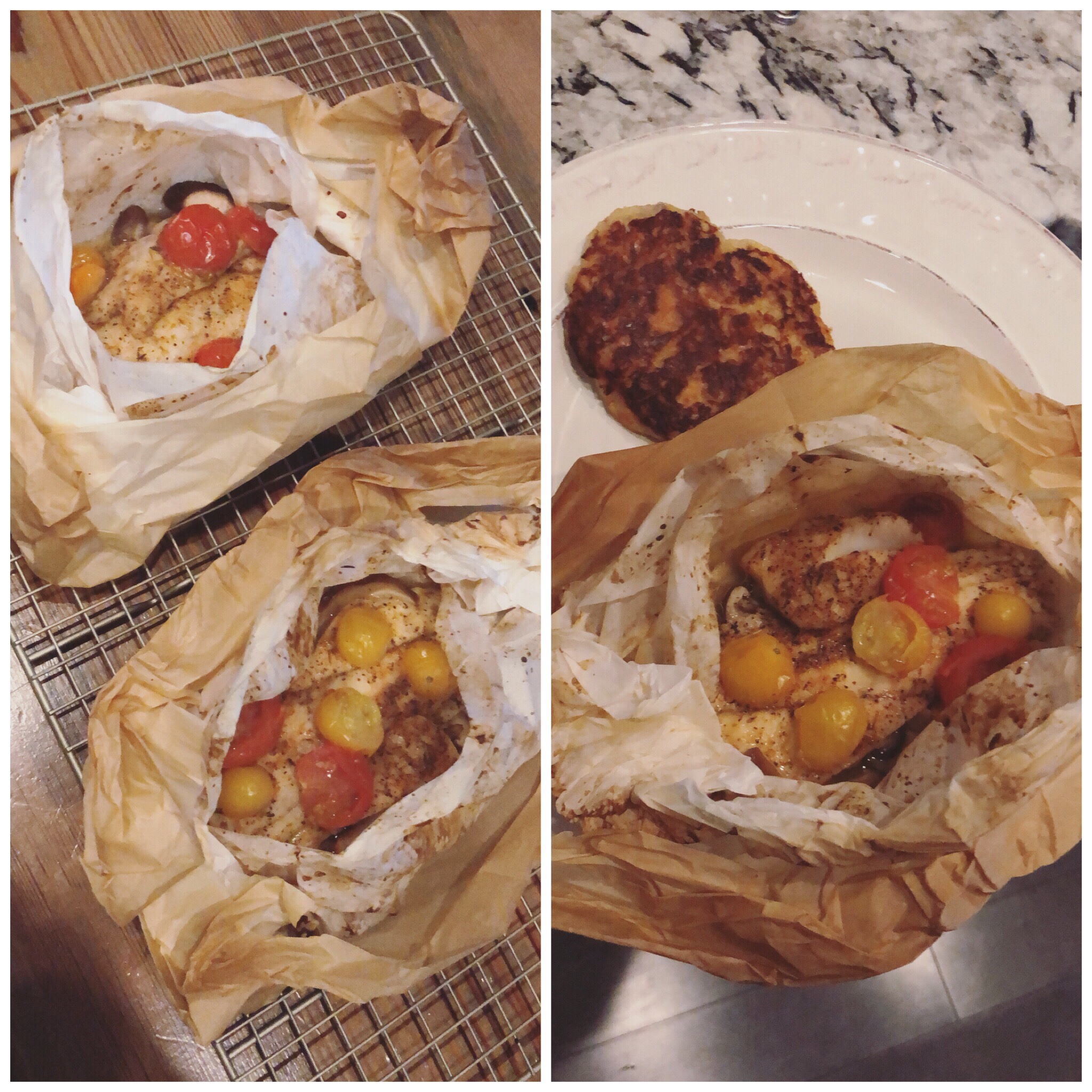 If you guys have any questions feel free to ask um' & thank you for baring with my non-professional cooking skills!
XoXo, Chelsey Rae