Sharing this yummmy & quickkkk (the most important part) soup with you guys! This should come in handy since the temperature decided to drop today and that groundhog saw its shadow!!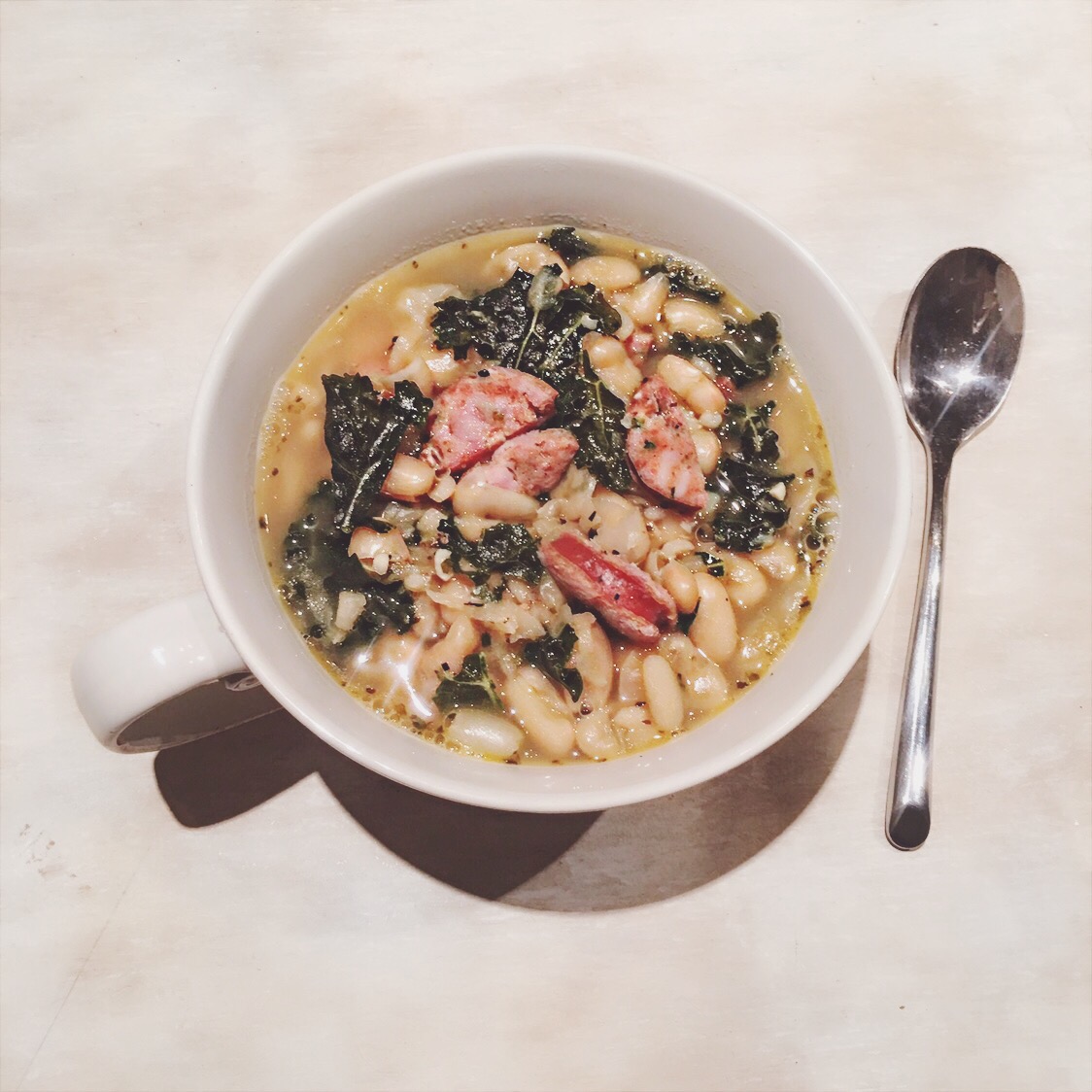 Now ya'll know I barely measure anything and just add season to taste so bare with me – I pretty much give y'all a base for a recipe and there's always room to make it your own!
So here's what you'll need:
1 tablespoon EVOO
About 3/4ths cup of the holy trinity
1 and 1/2 teaspoons minced garlic
48oz of chicken stock (box and 1/2)
2 15oz cans of white beans
1 medium (thickly) chopped onion
1 bunch of kale leaves pulled from the stem and chopped to your liking
Italian or Cajun spicy chicken/pork sausage, again, the type & how much is your preference.
Season to your taste with:
Tony's, cracked pepper, Italian seasoning, cayenne pepper, and garlic salt.
Side note: you can obviously use dry white beans and soak them overnight but this time I was using canned for time purposes! I prefer not to, but when I do I make sure to put the beans in a strainer and rinse very well…The juices canned stuff sits in freaks me out!
First, I throw my sausage or chicken sausage in the pan and get it browned then I remove it and set it aside. In the same pan I throw my holy trinity and chopped onions into a tablespoon of heated EVOO, I allow this to cook until unions get tender and see-through. Then I add my minced garlic and sauté for about 3 more minutes before adding my two cans of drained white beans. Once my beans are all mixed in I add my seasoning and continue to try to smush some of the beans to get a little bit of that creamy texture.
Once everything's all in there and mixed well I throw my sausage back in and add my 48oz of chicken broth. The last thing to go in is your kale, this cooks down fairly quick and after I see it's wilted I put at medium to low heat and let it simmer for about 20 minutes to get all the flavors going!
I tend to eat this just on its own for the most part but I have served over rice a time or two just to make it a little more filling if I'm feeding the boyfriend or friends!
Happy soup eating people!
XoXo, Chelsey Rae